February 8, 2018
---
One Problem | Three Solutions: Site Selection
What is the current state of restaurant real estate, and what should restaurateurs consider when looking for locations this year? Steve Starr, president of starrdesign in Charlotte, N.C., offers his insight on the state of site selection right now and three key considerations to consider this year.
El Pollo Loco Opens with Fresh Design in California
Fast-casual Mexican chicken chain El Pollo Loco brought its new prototype to Yuba City, Calif., in January. It is the chain's reintroduction to the market after a long absence.
History's in the Making at Pizza Press
Pizza Press is highlighting its old buildings and bringing community alive in others to make each of its restaurants feel local. In this Q&A, CEO Dara Maleki explains the chain's approach to localized design.
MB Steak Takes Vegas Luxe to the Next Level
Located inside the Hard Rock Hotel and Casino, MB Steak is a 7,800-square-foot fine-dining steakhouse that spans two levels and features a 24-foot "living skylight" among other dramatic and luxurious details.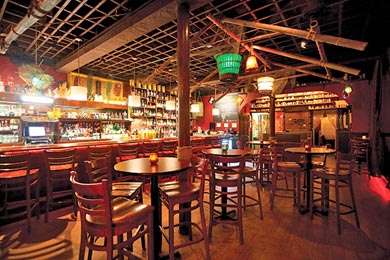 American Idols: Tiki Bars
Americans were swept up in a craze for Polynesian aesthetics and tastes in the middle of the last century. While the heyday is over, tiki bars and restaurants are enjoying a resurgence as part of the greater trend of venues that offer immersive experiences. We took a look at three bars that are carrying the torch.
You received this e-mail as a subscriber to restaurant development + design or one of its e-newsletters.

Please direct advertising questions to:
Maureen Slocum, Publisher.

Rebecca Kilbreath, Editor in Chief.

Subscription Support:
630

-739

-

0900

(ext. 53) or e-mail Julie Pesek