Santa Barbara, Calif.-based Persona Wood Fired Pizzeria signed a franchise agreement with Chicago entrepreneur Greg Dunn to open at least three Persona Pizzeria restaurants in metropolitan Chicago.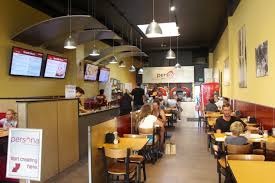 Co-founded by World Pizza Champion and certified Italian pizzaiolo Glenn Cybulski, the fast-casual concept allows diners to build their own 12-inch, Neapolitan-style pies, choosing from a combination of 30-plus artisan toppings. The pizzas then bake in an authentic, Italian-made wood-fired oven and are ready in 90 seconds.
Cybulski, Persona Pizzeria's executive chef, trained at the renowned Scuola Italiana Pizzaioli, and has earned the title of "World Pizza Champion" at the Citta Di Napoli world pizza competition in Naples, Italy.
Dunn, a veteran marketing communications executive and food fanatic, will open his first Persona Pizzeria location in mid-2016. Locations in the Loop and other dynamic neighborhoods are under consideration, according to Dunn.
Founded in 2013, Persona Wood Fired Pizzeria has locations in Santa Barbara and Santa Rosa, California, as well as in Columbia, South Carolina.