Shopping and dining have long gone hand in hand, and for many consumers, they're complementary pursuits. With few notable exceptions, however, retail and foodservice have chugged along on separate tracks, operating their own business models and, when proximity and demographics work in their favor, giving each other a boost of steam. Now, that scenario is changing fast.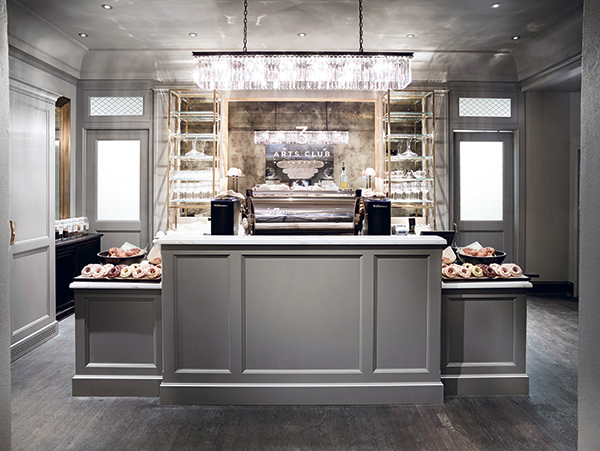 The rise of online shopping has many brick-and-mortar retailers in segments from fashion to furnishings reaching for the switch and crossing into food and beverage in new and more strategic ways. Columbus, Ohio–based retail branding and design firm Chute Gerdeman describes it all as part of a broader trend of creating "immersive experiences that activate consumer senses" that let consumers experience a brand through multiple perspectives. The upshot: Cutting-edge retailers are no longer just selling goods — the Internet can do that more efficiently and cost effectively. Rather, they're staging and selling experiences and using foodservice to do it.
Emerging lifestyle retailers like TOMS and Shinola are collaborating with local operators in many markets to offer juice bars, coffee bars and cafés in their stores, many of which mirror the hottest restaurant design trends. Hipster-inspired apparel and home decor brand Urban Outfitters last fall went a step further, actually purchasing Philadelphia-based Vetri Family restaurant group, in large part for its multiunit Pizzeria Vetri casual dining concept. And big-brand and luxury retailers from Macy's to Barneys have, over the past decade, reimagined and redefined the historically ho-hum department store restaurant niche with diverse, design-forward, chef-driven concepts.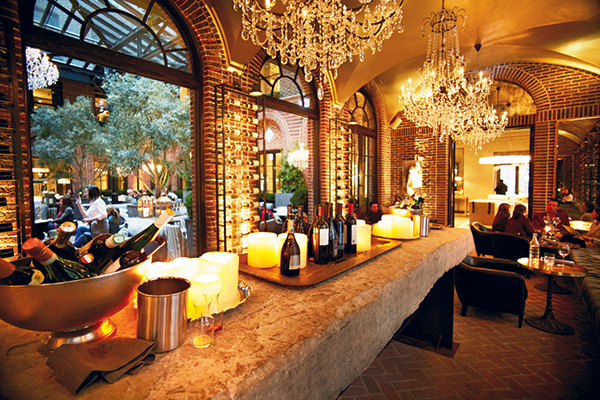 Shoppers at Restoration Hardware in Chicago can slip under exposed brick arches into the first-floor Wine Vault & Tasting Room to grab a glass of wine before shopping.Illustrative of the trend, here's a snippet from a New York magazine review of Freds at Barneys Madison Avenue store, after its renovation almost a decade ago into a sleek, modern bistro: "Freds is smartly perched up on the ninth floor in a warm and woody setting, and has transformed what was once an occasionally overbearing henhouse into a respectably buzzy place for ladies (or women) who lunch, as well as the men who love (or walk) them. Normally, the morsels served in department-store eateries are the gastronomic equivalent of the final clearance bin. Freds, however, is as rare as that Gucci pullover you saw on four marked down to $895….It's almost as satisfying as snatching up an irregular with no pulled threads. Ah, there's one more thing. After the shoppers have made their merry way home, Freds becomes quite the cashmere-quiet hideaway."
Barneys now operates Freds restaurants at its Chicago and Beverly Hills stores as well. In Beverly Hills, the store's former restaurant, Barneys Greengrass, was converted in 2014 to a Freds as part of the store's 20th anniversary remodel. The fifth-floor restaurant, designed by residential architects and designers Steven Harris and Lucien Rees Roberts, now features custom sculptures, a sleek onyx bar with a faceted mirror wall and marble tables. Unlike Greengrass, which was hidden from the retail floor, Freds opens up onto the fifth-floor menswear department and includes a wrap-around outdoor terrace where flagging shoppers can rest and restore over $32 club sandwiches, signature cocktails and cold-pressed juices while taking in views of the Hollywood Hills. Befitting the Barneys experience, Freds staff is outfitted in exclusive designer uniforms and shoes.
Barneys' strategy of creating a posh space for see-and-be-seen power shoppers and diners is just the type of retail brand extension that industry trend watchers expect to see more of.
Restoration Hardware's new home furnishings and accessories showroom in Chicago seamlessly incorporates three foodservice offerings, including the garden courtyard's 3 Arts Club Café."It's a big deal. It's about retailers finding ways to complete their sentences and about the socialization of their brands," notes Paul Lechleiter, chief creative officer at FRCH Design Worldwide, the Cincinnati-based architecture and design firm. "If you look at a typical apparel retailer, the whole idea of incorporating food and beverage is really about 'stay a while, be part of our family and explore our brand on another level.' In an age where more and more people are just pushing buttons and moving on, retailers are recognizing the opportunity to add a level of hospitality to make a personal connection. Food brings people together and the built environment is still a tactile, sensory experience. For retailers, whether in a mall or a specialty store on Madison Avenue, you want to be able to take people out of their ho-hum day and add some buzz again."
More mainstream retailers, too, are redoubling efforts to lure shoppers in with upgraded, more on-trend restaurants, often partnering with leading local hospitality groups to do so. Macy's, for example, teamed up with Patina Restaurant Group in 2013 to launch Stella 34 Trattoria at its Herald Square flagship in New York City. The modern Italian concept serves up authentic Neapolitan pizzas, house-made pasta, al forno entrées, fresh salads, shareable antipasti plates, upscale cocktails and an Italian wine list of more than 100 selections.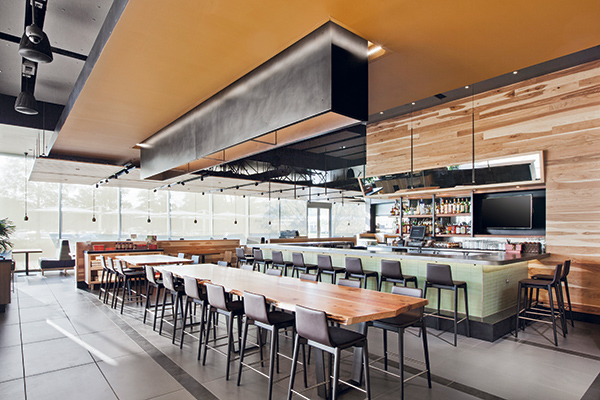 Brazille, a contemporary full-service restaurant operated by Nordstrom's in the Woodlands Mall, Woodlands, Texas. Photo courtesy of NordstromWith seating for 270, the 10,000-square-foot trattoria features a chic prosecco bar, a semi-private dining room, a casual lounge and a marble dining counter facing the open kitchen. Design highlights include three wood-burning ovens and a 240-foot-long Carrara marble and stainless steel sculptural bar that sweeps through the dining room — the longest bar set for food, dining and drinks in New York City, according to the company. Twelve-foot windows provide abundant natural light and views of the Empire State Building and 34th Street.
Calling Stella 34 Trattoria an "extraordinary endeavor in department store dining," Warren Wolfe, vice president of Macy's Food Division, said the company has set out to enhance the shopping experience with extensive dining options that cater to the lifestyles and expectations of the Macy's flagship.
Patina Restaurant Group CEO Nick Valenti added that the restaurant would "redefine department store dining — for the first time, guests will visit a retail store for the cuisine as much as the fashion."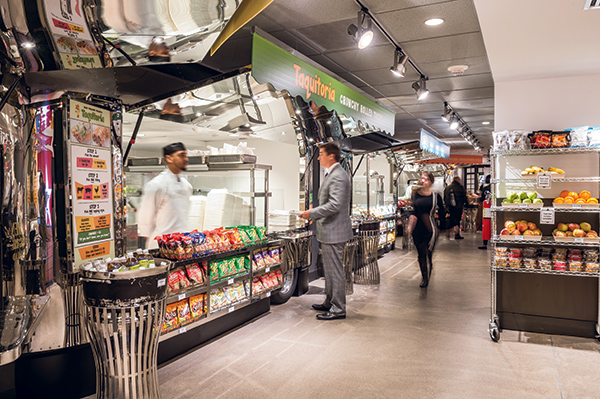 Following the launch of Stella 34 Trattoria at its New York flagship store, Macy's introduced additional foodservice options. Chef Street features four chef-inspired food truck concepts operating from Airstream-style trailers. Photo by Evan SungMacy's followed up late last year with Rowlands Bar & Grill and Chef Street, both occupying the Herald Square store's newly remodeled lower level. Rowlands is a modern American gastropub while Chef Street brings the food truck trend indoors courtesy of four Airstream-style trailers dispensing chef-inspired dishes. There's Taquitoria, serving Marc Forgione's tacos; Crumb on Parchment, with salads, grain bowls and sandwiches from Miami chef Michelle Bernstein; ramen, bao buns and dumplings by Takashi Yagihashi of Chicago; and Rollie's, for sandwiches.
Nordstrom, too, is putting sharper focus on foodservice as a way to bolster the appeal of its retail stores. Last fall, the company unveiled its first Wisconsin-based full-line store in suburban Milwaukee's Mayfair Mall. In addition to amenities such as personal stylists, curbside pickup and in-store alterations, the store includes Ruscello, a contemporary, full-service Mediterranean- and Italian-inspired restaurant with expo kitchen and bar near the lower-level exterior entrance to menswear, and Ebar, an artisan coffee and smoothie bar with grab-and-go food options at the store's interior mall entrance.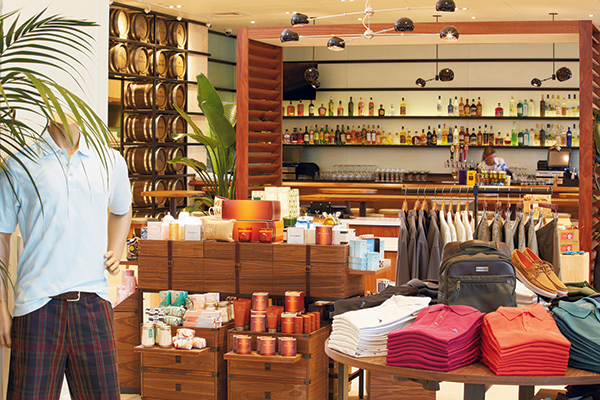 Traditional barriers between the bar, restaurant and retail sales floor have been eliminated in newer Tommy Bahama operations, giving customers a more immersive brand experience. Photos by Benny Chan / fotoworksAt Nordstrom's new Woodlands Mall store in The Woodlands, Texas, the Ebar concept is joined by Brazille, a full-service restaurant with a casually sophisticated atmosphere. It features bistro cuisine and a full bar and is located across from the children's shoe department on the second floor. In Bellevue, Wash., Nordstrom's up escalator leads to Habitant, a center-store lounge where shoppers can rest their feet while sipping craft cocktails and sharing a plate of ricotta meatballs or cilantro lime chicken tacos.
Companywide, Nordstrom now has more than 200 restaurant operations across 16 concepts, which also include Bar Verde (fresh, local, seasonal fare), Blue Stove (globally inspired small plates, wine bar), Fruititude (fresh juices, smoothies, sandwiches, snacks) and Raam (Asian noodle bowls, steamed buns).
Layers of Touchpoints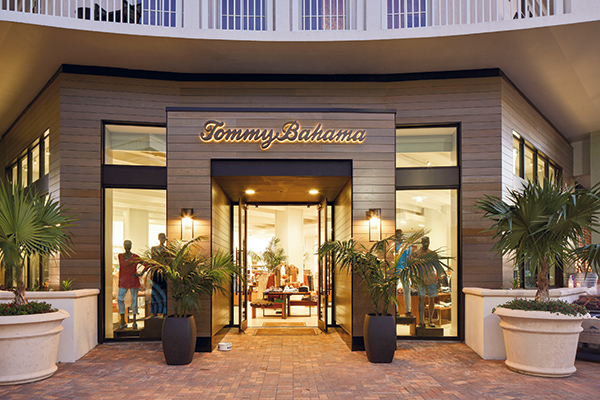 While increasing foot traffic is a major motivation of retailers entering the restaurant space, so is the idea of being able to breathe additional life into their brands. Apparel and home furnishings retailer brand Tommy Bahama's promise is "Make life one long weekend," and its namesake restaurants are keys to selling that promise. A pioneer in the retail-restaurant hybrid world, the company now has Tommy Bahama Restaurant & Bar operations incorporated into 15 of its retail locations, which are dubbed "islands," when both food and fashion are offered. The self-operated restaurants range in size from 2,500 to 10,000 square feet; checks average $30 to $35 per person at lunch and $55 to $60 at dinner.
Rob Goldberg, executive vice president of restaurants for the Seattle-based firm, says they're the ultimate expression of the brand.
"From our first store and restaurant in Naples, Fla., the founders figured out that there's a connection you can make with a guest in a restaurant that you just can't do in a retail store," Goldberg says. "There's something primal that happens when people sit down to eat. It also lets us tell this grand story of who Tommy Bahama is, what we are as a company and, more importantly, as a lifestyle. In the restaurants, we focus heavily on the experience and the decor, which is customized to each location, and try to deliver on the promise of this relaxed lifestyle. It helps put the brand in context for the consumer."
Tommy Bahama's newest "island" is in Waikiki. The open, airy, three-level space includes a ground-floor retail store, a large second-story restaurant and a rooftop lounge with sand patio. Design highlights include an open circular staircase that connects all three levels; a 55-foot-wide living wall in the restaurant that features native Hawaiian tropical plants; a smaller organic herb wall in the rooftop lounge; tables, benches and stools crafted locally from native wood species; natural wide oak plank flooring; vintage, custom-designed surfboards on display; and fire pits and oversized furniture in the rooftop lounge.
"All of those touchpoints in terms of the island lifestyle — relaxed, simple and elegant — are manifested in our restaurants," Goldberg says. "From plateware to uniforms to menu design to music to cocktails and wine, it's much easier to express your personality through a restaurant. I think that as retailers look for more experiential marketing and more experiential retailing, restaurants will continue to play a bigger role. If you get it right, you can create a lot of loyalty."
Full Immersion: RH Chicago
One of the boldest new examples of such experiential retailing comes courtesy of up-market home furnishings retailer RH, Restoration Hardware. Last October, the company introduced a first-of-its-kind retail concept that takes it firmly into the hospitality business.
Located in Chicago's Three Arts Club, a 70,000-square-foot landmark built in 1914, RH Chicago takes retail-foodservice cross-pollination to a whole new level. Partnering with Brendan Sodikoff, CEO of multiconcept Chicago-based restaurant group Hogsalt Hospitality, the operation includes three foodservice offerings seamlessly integrated into the RH showroom experience.
Shoppers can enjoy Hogsalt's all-day menu in the central garden courtyard 3 Arts Club Café, sitting under Heritage olive trees and listening to the sound of trickling water from a restored historic fountain. Or, they can slip under exposed brick arches into the adjacent 3 Arts Club Wine Vault & Tasting Room and grab a glass of wine. At the 3 Arts Club Pantry & Espresso bar, they can grab their favorite coffee drink and choose from a daily selection of fresh donuts and pastries.
"It was clear from the moment we saw the 3 Arts Club that this was a rare opportunity to build a 'field of dreams'…where we could reimagine the retail experience by blurring the lines between residential and retail, indoors and outdoors, home and hospitality," noted RH Chairman and CEO Gary Friedman when the concept debuted last fall.
Such high-profile collaborations between retailers and restaurateurs are likely to become more common, predicts Chute Gerdeman's Gary Yoko, executive vice president of development. However, there will be challenges to retailers entering the foodservice business
"The Tommy Bahamas of the world are the exception — they've built a successful restaurant company within their company. But most retailers don't know the foodservice business. They're completely different models," Yoko says. "In the old days, people accepted mediocre food and poor service at retail because those restaurants were more of an afterthought. That's definitely no longer the case."