Guy walks into a bar – but how do you get him to come back again and bring his friends? That's no joke for casual restaurants. The bar area is the focus of redesigns and prototypes for many casual-dining chains. Lounges now take the lead in key efforts to refresh concepts, attract new customers, drive traffic and build sales. Although usually part of a top-to-bottom restaurant revamp, the bar area is integral to design strategy; it is often the heart of the newly minted restaurant.
Operators see the bar as a generator of social energy, radiating good cheer throughout the restaurant. To that end, architects are moving the bar to center stage – opening up sight lines, pumping up the vibe with state-of-the-art audiovisual systems, employing bar shapes more conducive to conversation and adding dispensing equipment to tap into beverage trends. Above all, architects are using the bar to keep restaurants flexible, enabling them to accommodate more dining occasions.
Why this bar-oriented blueprint? Chalk it up to tough economic times, a struggle for concept differentiation, shifting consumer demographics and new daypart opportunities. Thanks in part to more affordable price points, casual dining continues to hold its own against the full-service segment (showing 3.1 percent growth in 2011 versus 2.8 percent for full service, according to Technomic). Casual restaurants lagged behind their peers in limited service (up 3.7 percent), however. One weapon the casual segment can wield in this war is the lounge bar; most fast-food joints don't serve alcohol – not yet anyway.
Architect Tonics.
"Five years or so ago, casual restaurants got into trouble by offering dining experiences that were not highly differentiated. Now chains realize that's not going to work anymore," explains Christian Davies, executive creative director, Americas, for Fitch Worldwide, a global design firm with a number of restaurant clients.
"Consumers still see a lot of sameness between the conventional varied-menu casual concepts," adds Mary Chapman, director of product innovation at Technomic. "Redesign is a way for those casual chains to attract new customers."
"The bar can be part of concept differentiation if it is a unique proposition," adds Davies. "It should be such an integral part of the operation that customers get that the minute they walk in the door."
Getting new customers in the door, as well as retaining repeaters, is crucial. The bar is key here, too, especially in attracting the coveted millennial crowd. It's very important for restaurants to serve alcohol, say 20 percent of millennials, according to a Technomic study on consumer behavior and attitudes. Size matters, too. In Technomic's casual-dining report, 19 percent of all consumers responded that a large bar area is important or very important to them at a traditional casual-dining restaurant; 27 percent identified that as a key factor in upscale casual establishments. "Attracting customers with high-margin options like the bar is a good way toward success," notes Chapman.
Central Attraction.
"With our new prototype we are amplifying elements guests like, hoping that will attract people who don't currently visit Buffalo Wild Wings and bring our current guests back more frequently," says Bill Ferris, director of store design for Buffalo Wild Wings. The 840-unit Minneapolis-based chain has a new prototype underway in two pilot stores, one opened in Cincinnati late last year and another early this year in the San Diego market.
"The idea behind the design is a play off of the sports stadium – not to replicate the stadium experience but to capture that same energy," explains Ferris. It's a good match with the brand's sports-oriented persona. A new logo introduced last summer tweaks the iconic winged buffalo image and replaces the old tagline "Grill & Bar" with "Wings. Beer. Sports."
The bar is central to the new layout. Buffalo Wild Wings' current design is a rectangular space split between dining and bar; in contrast, the new prototype is a square format where the bar occupies the center, slightly to the rear. "We've moved the bar to a more central location. Everything is focused around that core of social energy," says Ferris.
"If you set a bar in the center of the space, it becomes the heart and soul of the environment, and everything revolves around it from a visual and energy-level standpoint," says Davies.
"The trend seems to be incorporating the bar within the restaurant, rather than relegating it and its customers to some smoky corner," adds Chapman. She believes that setup is more appealing to women, who don't necessarily want to hang out in a bar, especially if they are alone, and to those all-important millennials. "Incorporated all in one space, the bar is a way to spread some buzz, energy and life to the restaurant part of the business," Chapman notes.
Power Generator.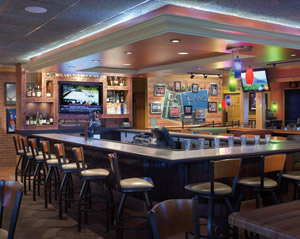 "We realized that the bar can be a hub, generating energy, [which is] valuable even when you are running a restaurant," says Jay McDermott, vice president of development for Applebee's. The Kansas City, Kan.-based casual-dining chain launched a remodel program called Connections and a new prototype. Connections is the first remodel involving the exterior, with new awnings and signage and some work around the front entrance. "That signaled change to the guest," declares McDermott, and more change awaited inside. The 3-D artifacts were taken off the walls, for a cleaner, sleeker look. Tiffany-style lamps also got the heave, replaced by smaller yet still colorful lighting fixtures.
To give the bar cleaner, more contemporary lines, the old oak canopies were removed, which also improved sight lines. Strong visuals were built into a greatly enlarged backbar (as much as 50 percent bigger than Applebee's current standard), incorporating TVs and uplighting the liquor display. "The idea behind the backbar was to develop a focal point that would create energy and resonate out into the restaurant," explains Brian Tepen, director of architecture and design. "Lighting makes the bottles on the backbar glow, creating a jewel in the center of the restaurant."
At the end of 2012, about 51 percent of Applebee's franchise system was displaying the new image. "Operators are investing the money, getting the sales rise, seeing a return on their investment. If anything, franchisees have been accelerating the pace at which they have been remodeling, which has been a plus for us all," says McDermott.
The new Applebee's prototype, now in testing, incorporates many lessons learned from the Connections redesign along with a few refinements. The bar got a little bigger, but it has been moved away from dead center in the building to just off center. "That creates energy flowing out into the restaurant but also allows some quiet spaces at the opposite end," explains Tepen. In a previous incarnation from five or six years ago (known as the Encore remodel), the bar was pushed up to the front entrance. Meant to be a lounge, it ended up being more of a waiting area, creating too much congestion in the traffic flow. The new prototype corrects that. After a solid test period and a few tweaks, the unit serves as a blueprint for Applebee's new builds.
A Separate Approach.
Other casual chains have taken a decidedly different tack when it comes to lounge location. "The location of the bar depends upon the chain's personality and how they want to express it," says Davies. Another current design approach draws a distinct separation between the bar and other areas of the restaurant, often a physical barrier.
Freeport, Maine-based Ground Round literally splits its units in two. "We've always had a two-room facility, which we've always considered a brand attribute," notes Jack Crawford, president and CEO of the 30-unit casual-dining chain. "It's no-compromise dining for both families and adults alike." Parents with children can feel comfortable in the dining room away from the bar, and conversely, adults in the bar don't have to contend with a family birthday party going on nearby.
"That design setup also allows us to really amp up the lounge, turning it into more of a sports bar," Crawford says, noting that the two-room setup offers more flexibility. Each room can run at its own tempo, with different clientele, different music, different sound and energy levels. "If the home team is playing, we can turn up the volume of the TVs in the bar, and not disrupt anyone having a quiet dinner in the dining room."
Greater emphasis on the bar means allocating more space to the lounge side. Older Ground Round designs split the space equally between the bar and dining room. That's changing, however. The bar consumes 60 percent of the space in recent redesigns, as well as in the new prototype being built in Waconia, Minn.
With units measuring 4,700 square feet on average, Ground Round is growing at a rate of 4 to 6 new units a year; new builds will follow the new prototype, including the bigger bar. "We do a strong family dinner, but at 9 p.m., the crowd is looking to be near a bar, so we put more seating on that side," says Crawford. Units average 210 seats: 120 in the bar (including 30 in an adjacent outdoor patio); 90 in the dining room.
Another change to the Ground Round floor plan is that guests enter the new prototype units via a lobby area that opens into the lounge. A door on the side leads guests to the dining room. Older units had a closed foyer with separate doors leading to the bar and dining room, respectively. The lively lounge is a more inviting entrance, especially after the peak dinner rush when the dining room might be empty.
Shape Shifting.
Casual dining restaurants are shifting toward oval- or U-shaped bars, a configuration that is a must when the facility is located in the center of the room. This allows for more conversational give and take between guests across the bar, creating more social energy.
Ground Round moved to a horseshoe-shaped bar some time ago and retains it for the new prototype. Applebee's employs a U shape for the bar in its Connections redesign, seating an average of 77 people in this area. The bar area in Applebee's new prototype features a similar configuration but seats only 66 people.
Buffalo Wild Wings transformed the straight-line bar in its current design to a U shape in the new prototype. "The U-shaped bar where sports fans face each other across the bar encourages more of that social interaction," Ferris says.
"U-shaped bars offer good sight lines," agrees Technomic's Chapman. "Guests can interact with other customers and watch all that beautiful digital technology."
Indeed, digital technology, especially high-definition flat-screen TVs, has proliferated big time in casual-dining lounges, making every seat the best seat in the house to watch the big game. "We have increased the number of flat-screen TVs," Crawford says. The Ground Round's bar area now averages 24 multiprogrammable televisions. Many of these are slanted to look down on the bar stools, which become premier seating for sports viewing.
As part of Buffalo Wild Wing's stadium concept, Ferris designed a two-sided "jumbotron" that is installed over the bar. The giant screen is the main element in the space, serving as a gathering place for customers, particularly on game days.
Applebee's has also added more TVs; the new prototype's bar area has 15. "Large flat-screen TVs make us look relevant," says Tepen. The digital package also includes WiFi to appeal to the younger generation.
More Beer Here
Sports and beer go together like, well, sports and beer. One of the biggest equipment installs in these remodels is more beer lines. Craft beer sales have been increasing by double digits during the past few years, and offering regional brews is a great way to tie into the locavore movement.
"The most significant equipment change we've made is growing the number of bar taps," points out Crawford. "As a brand we sell a lot of draft beer." New stores will sport at least 12 taps, and some boast as many as 20.
Applebee's is also upping its draft selections, from the current 5 or 6 on tap to between 10 and 15. "This will allow us to celebrate draft beer and broaden opportunities for regional and seasonal beers," notes Tepen.
Although it hasn't increased the number of taps, Buffalo Wild Wings restaurants is giving greater emphasis to beer, with a draft cooler/dispenser that showcases the kegs behind a transparent display. Located at the open end of the U-shaped bar, the kegs visually demonstrate to guests that they are getting the freshest glass of beer possible, says Ferris.
"Personally, I'm disappointed if a restaurant doesn't offer local craft beer," says Davies, about the importance of draft as a differentiator. But he cautions that there has to be follow-through. "If a restaurant is going to offer quality beer, the staff has to be knowledgeable about those offerings and be able to talk about them to customers."
Working on Flextime.
"Another driver for these new bar designs is to appeal to those folks who are out for a late-night or other snacking occasion," Chapman says. Getting customers in the doors at lunch and dinner – and even breakfast – isn't enough anymore. Casual chains are ferreting out new eating occasions, including the rising incidence of mid-morning and afternoon snacking as well as late-night munching.
"One concept we are talking about with clients is dayparting, differentiating the space for lunchtime, afternoon, dinner and post-dinner," Davies says. "Restaurants get different crowds across those time periods, with changing energy levels. The bar, since it's such a social component of the restaurant, is a powerful tool for that."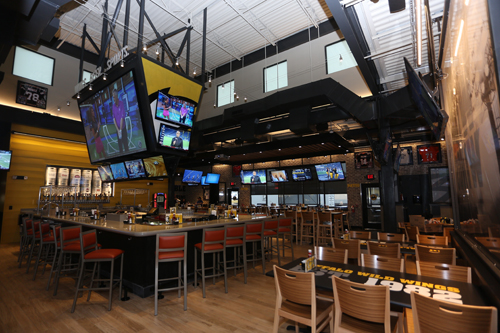 Although the bar is the energetic core of the new Buffalo Wild Wings, guest experiences are layered in zones off that to provide flexibility for them. Away from the center, Ferris has created more intimate dining areas, a place for a quiet gathering of friends or a private conversation, even when the bar is running full blast. "Guests can choose the experience they want," he says.
For the past three years, Applebee's has made a concerted effort to build its late-night business. This was before the remodeling program, but Connections dovetails well into this effort. "The remodels we have done, opening up and creating a visually more attractive bar, haven't hurt; we have seen our late-night business build," says McDermott. Concurrently, the menu is evolving, too; about 80 percent of items debuted over the past 2.5 years. All these efforts seem to be bearing fruit.
"We are starting to get a younger demographic and folks who might have not been in an Applebee's in a while," McDermott adds. "The remodel draws customers in, and then they experience our improved food and service quality – that's how we get them to come back."