Imagine your new restaurant 10 years from now.
It has a noticeably smaller footprint than previous incarnations, including reduced countertop space and just one POS device. A shelving system located near the entrance is for customers to pick up pre-ordered, pre-paid-for food. Most days, at least half of the orders come in via mobile electronic devices. Customers order on premise from a tablet computer-enabled kiosk that instantly transmits each ticket to monitors in the kitchen. Servers deliver the food to the customer's table where they ensure that the order was complete and ask if the guest wants anything more.
In the back of the house, part of the operation is automated. Pizza and burgers are made to order automatically by robotic cooking systems. All this technology has allowed the restaurant to cater to a larger clientele with a smaller staff. Guests love the swift, efficient service. Profits are up.
This visionary future is actually possible today. The technology portrayed is available, albeit in the case of robotic cooking, a bit on the cutting edge. Some restaurateurs and large chains have already adopted the front-of-the-house gadgetry mentioned above. However, these early adopters represent a small minority in an industry typically slow to adopt new technology.
With the promise of more efficient service and labor savings from these devices, the restaurant industry might just buck its tendency to be a technology laggard. In fact, we may be at an inflection point in the adoption of some of these technologies, if the industry's recent spike in technology spending has legs.
Restaurants invested an average of 5.8 percent of revenue on technology in 2014, up from 3.5 percent in 2013, according to the "2015 Restaurant Technology Study" by Hospitality Technology magazine. The study found that 15 percent of restaurants accept mobile wallets, up from 7 percent in the 2014 study, and 37 percent plan to add that capability in 2015. About 13 percent of restaurants surveyed currently offer tableside payment via wireless credit card readers. Among those not yet offering this technology enhanced option, 29 percent are considering implementing it in 2015.
Digital menus and payment options, along with features such as devices dedicated to gaming and entertainment, have the potential to significantly alter the guest experience. Some caution that the transformation could adversely affect service, but even critics acknowledge the upside is so compelling that widespread adoption of many of these features is inevitable.
Panera 2.0 enables mobile ordering and payment, as well as easy customization. Stores include shelving areas near the door for quick pick-up of orders placed remotely.
Most restaurateurs continue to take a wait-and-see approach to new technologies, says Griz Dwight, president, GrizForm Design Architects. Whether and how soon these technologies take hold will depend on a perceived return on investment. "If you can spend $10 to show you can make $20 later, then you can justify it," Dwight says.
Early adopters seem happy with their results. Here's a look at how they are faring and what the future may hold for the industry.
Kiosks, Tablets Change the Service Game
Guests' interaction with digital menus and ordering systems can occur before they set foot in the establishment. For example, some mall and office-building locations for Wow Bao, a Chicago-based chain that features filled steamed Asian buns, provide digital ordering kiosks outside the restaurant's entrance. Standing 3½ to 4 feet tall, each tablet-enabled kiosk is "a billboard for the restaurant," says Geoff Alexander, executive vice president and managing partner, Wow Bao.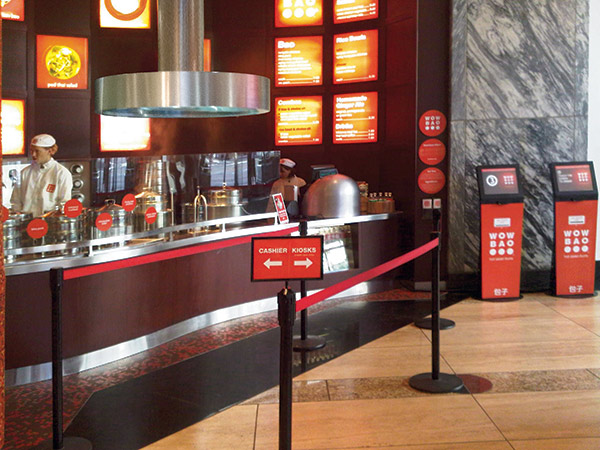 An early kiosk adapter, Wow Bao reports higher check averages from automated suggestive selling.
Free-standing kiosks are one option for electronic ordering stations. Another format is to build the devices into walls. John Sofio, president of Built Inc., a design-build firm based in Los Angeles, notes that a client recently unveiled a space with ordering tablets embedded into stylized walls on two sides of the entrance lobby. The quick-service restaurant has no countertop or POS station for ordering, Sofio says. Ordering and payment occur electronically. Guests take a receipt from the tablet with an order number and pick up their food and beverage inside.
Some full-service establishments provide guests with tablets as they take their seats. Carmel Kitchen & Wine Bar, with multiple locations in Florida and Pennsylvania, allots at least one tablet for every two guests. These "menu pads" contain the full food and beverage menus with enlargeable photos for each item. The devices provide the capability to change menu items frequently without bearing printing costs. A wine-pairing feature provides suggestions to go with each entrée. Ordering integrates with the POS system that matches each ticket with the corresponding table number and transmits the information to kitchen monitors.
Tech-savvy guests can place orders themselves, while technophobes can ask their server for help. "It's more efficient than pen and paper, whether guests order for themselves or have a server do it for them," says Brian Waggoner, operating partner, at Carmel Kitchen's Winter Park, Fla., location. Waggoner says there is about a 50/50 split between do-it-yourselfers and those who ask for help.
Carmel Kitchen takes tablet inventory at every shift. Each unit has a tracking feature and data can be erased remotely.
Servers love the menu pads because they make their jobs easier, Waggoner adds. For instance, guests can add items to their order after the original order is placed without having to flag down a server. A "call server" button on the tablets allows guests to easily attract their server's attention when needed. "Our goal isn't to use the technology to replace servers, but to add to our level of service," Waggoner says.
Digital Payment Speeds Transactions
The guest conveniences of digital menus extend to payments at Carmel Kitchen, with each iPad having a credit card reader built into the case. Guests simply swipe their card without it having to leave the table, and as Waggoner points out, this provides guests with a more secure transaction as it reduces the odds of credit card numbers being pilfered. A POS station prints out the guest receipt or the guest can elect to receive it via email. Going digital also increases order accuracy, eliminating the chances of a server incorrectly hearing items as guests speak.
One concern, theft of tablets, has not been an issue at Carmel Kitchen, Waggoner says. "We keep inventory on iPads for every shift," he says. "If one disappears, we have a security tracking feature and can also wipe out data remotely."
Some large chains, including Starbucks and Panera Bread, have added smartphone mobile wallet payment systems in the past year or two. Wow Bao was an early adopter of this technology. Mobile wallets, the fastest way to conduct a transaction with no need to provide paper receipts or make change, help queues move faster, reducing their lengths and fostering higher guest throughput. In high-volume businesses, each few seconds of time savings adds up over the course of the day. Wow Bao finds mobile wallets particularly advantageous at its non-conventional locations — food trucks and pop-up sites, including at music and street festivals and sports venues. "They help us to change the size, shape and form of our space for various locations," Alexander says.
Mobile wallets strongly appeal to younger consumers, a demographic that restaurant chains covet and hope to convert into brand loyalists. "Many Millennials don't carry cash," points out Jason Dorsey, Millennials strategist and chief researcher with research firm The Center for Generational Kinetics. Fail to provide these young people with the ability to pay by smartphone, and you risk losing their business to others that do. This generation has short attention spans and is the least likely to tolerate long waits, Dorsey adds.
Restaurants can also enable guests to use their own smartphones as digital menus and ordering devices. The technology already exists, and Panera, with its Panera 2.0 initiative, and Starbucks have jumped on board.
Design Implications
Digital payment technology can impact interior design. For instance, Carmel Kitchen's 200-seat Winter Park location has been able to cut the number of POS stations to three from six as the payment capability of its menu pads reduces the need for traditional POS machines. What's more, the technology allows each server to handle more tables, which reduces the number of wait staff stations a restaurant requires.
Electronic ordering could also allow for the removal of some drink kiosks or drink stations as drink orders could be automatically routed to the bar. For quick-serve establishments, especially those in small spaces, reducing POS stations can free up precious space.
"If you remove a POS from the counter, it opens up a lot of counter space," notes Jackie Rodriguez, senior manager, Technomic. And space is expected to come at a higher premium in the coming years. According to the Technomic White Paper, Food Industry Transformation, "Escalating occupancy costs in urban markets will require restaurants and retailers to trim building footprints, but maintain sales levels."
The front entrance area of many restaurants may require a redesign when implementing mobile ordering and payment. The concern is that as more customers adopt the technology, longer queues will form at pick-up windows and counters. Panera, in its Panera 2.0 initiative, addresses this problem by providing a shelving unit near the door where customers pick up mobile orders. If solutions like this work, some restaurants might be able to reduce the total area dedicated to ordering and pickup, as fewer people line up to order in person.
Upselling, Marketing Made Easier
Digital menus and ordering systems provide strong marketing opportunities. For example, Wow Bao's ordering process includes an up-selling feature. As customers navigate the ordering application, they encounter prompts suggesting additional items to order. "This allows us to have a higher check average," Alexander says.
Restaurants can use any digital device that can accept payments to handle loyalty/rewards programs. Credit card readers can read loyalty cards (or credit cards can be linked to loyalty accounts), and mobile wallets can include an app to register and track guest purchases. These features yield valuable marketing data that may become increasingly important to the industry.
"As we get more powerful analytics, restaurants will cater more to demographic niches," Dorsey predicts. These systems can collect data so that menus and ordering systems are personalized for each customer. These interactions also provide data on how much guests are spending — information that can assist marketers in identifying niche groups to tailor advertising and special offers.
To entice guests to sign up for loyalty programs, restaurants have to make it worth their while, Rodriguez says. Two-for-one offers, free items on birthdays and similar rewards do the job. Another guest benefit: After the customer swipes a loyalty card or taps into the system via a mobile device, the screen can automatically present their favorite items for a speedier ordering process.
Guest Experience Cautions
While digital ordering and payment systems remain alluring to restaurant developers, they should also consider how the guest experience will change. For example, when a coffee chain's customers can order and pay for items before entering the store, they could complete the transaction without interacting with a barista. While customers appreciate the convenience, they might miss the personal touch found through the in-store ordering and payment experience. How to address this point depends on a brand's philosophy regarding customer experience.
Cary Attar, founder and CEO at Fielding's Wood Grill in metro Houston, worries that digital menus, ordering and payment systems could create an impersonal guest experience. A full-service restaurant, Fielding's wants its servers to develop a good rapport with every guest party. "In other business models using technology, servers have double or triple the number of tables," he says. This creates a dumbing-down of table service. "I get it. Finding people is tough; but if you're going to be in a service business you need to provide good personal service." When restaurants use digital technology to enable staff reductions, waiters can become "glorified food
runners," Attar laments.
Despite his criticism, Attar doesn't rule out adopting some of these technologies someday. "I'm not anti-technology," he insists.
In fact, Fielding's has already set aside space for an "iPad bar" equipped with eight tablet computers for guests to use. The idea for this full table-service area evolved from a discussion with Eldeberto Goncalves, Attar's head chef and business partner, over the installation of TVs in the bar area. Goncalves suggested installing tablets in lieu of TVs, figuring that this would add a hipness factor.
The space was originally intended for adult guests dining alone, and that is its primary clientele at lunchtime. At dinnertime, kids who are entertained by the "electronic babysitters" take over the area. Meanwhile, their parents, keeping an eye on them from a safe distance, are able to have a quieter, more private experience. This is an added draw for some parents, but Attar admits that "It drives me nuts when people say they come back because of the iPads. I want them to come for the food!"
Adults who use the iPad bar tend to be Millennials or Gen Xers, Attar says. "We rarely see Baby Boomers sitting there," he notes. "We do see them using their own devices at their tables."
Other restaurants are providing gaming options. Some McDonald's locations, for instance, have attached game systems to walls for children to use, a more compelling diversion for a tech-savvy generation than crayons and paper. "It gives them something to do while they're waiting," Dorsey says. "We're going to see more of that."
Dwight offers one caution about adding gaming to a space. Depending on the lighting, it could detract from the overall ambience. "If the device flickers and the image moves, it can be distracting to others," Dwight says. "Everybody has games on cell phones, so I don't know if this is going to catch on."
Robotic Cooking Up Next?
A few vendors offer machinery that cooks food automatically. One claims to cook 360 gourmet burgers per hour. You can find robotic cooks that prepare personal pizzas and burritos at some airports, Technomic's Rodriguez points out. Though essentially automatons, "they still offer a customized product," she says.
We may begin to see robotic cooking apparatus appear at chain restaurants over the next few years, she says. "Maybe you'll see them used during off-hours when restaurants don't want to staff the location."
Like vending machines enabled to handle hot orders, these machines will allow locations such as gas stations, convenience stores and drug stores to offer a wider variety of freshly prepared hot food.
It's hard to predict which new technologies will resonate and have staying power in the restaurant industry. Low profit margins mean restaurateurs have limited capital for investing in and testing new technology and equipment. "A lot of technologies could be interesting, but many restaurants are hesitant to become early adopters," Dwight says. "They don't want to pick gimmicks."
On the other hand, waiting too long to adopt game-changing concepts will put some at a competitive disadvantage. Different brands and restaurant concepts will have to balance those competing pressures to choose the most appropriate solutions for them. One thing is clear: Features such as digital ordering, payment, and loyalty programs are too impactful to ignore.