Great ceiling designs add eye-popping aesthetics, important functionality
To achieve a distinctive look for the new Freehouse restaurant in downtown Minneapolis, Blue Plate Restaurant Co. and its design firm, Gensler, didn't forget to look up. When patrons in the bar area of the operation's third-floor Volstead Lounge tilt their heads up, their gazes land on 50 beer keg tops affixed to the ceiling.
Located in a historic former food production building, the restaurant features an industrial interior design theme that is patterned after a brewery. Design elements on each floor of the three-story eatery and lounge represent stages of the brewing process: ingredient storage, production and distribution. The ceiling's keg tops, some of which envelop light fixtures, speak to the third stage. While customers are unlikely to forget this unique ceiling treatment, such distinctive ceilings are the exception in the restaurant business.
Often an afterthought, ceilings usually don't get the design respect they deserve. While not as consequential to patrons' experiences as other elements, such as chairs, tables and wall decor, ceilings nevertheless warrant serious consideration. They help set the tone aesthetically, strongly influence acoustic ambiance, provide most of the lighting and can be the setting for one-of-a-kind decorative flourishes.
Many factors influence overhead design and material choices, including ceiling height, sound absorption/reflectivity qualities, color, code considerations, sustainability, maintainability, lighting, overall interior design and, of course, cost. Architects balance all of these elements when designing the "fifth wall."
"Aside from the floor, the ceiling is the largest surface area," says Glen Coben, president of Glen & Co. Architecture in New York. "It provides a large canvas to work on and is an amazing opportunity to surprise, delight and wow guests."
Height: A Key Influencer
Ceiling height helps determine design elements of the entire space and, especially, of the ceiling itself. A high ceiling can make a small space seem bigger and a big space seem enormous. "Some restaurateurs think the taller, the better," says Jim Lencioni, president of Aria Group Architects in Oak Park, Ill. High ceilings tend to make for a lively atmosphere, he says. Diners may start to feel uncomfortable once ceilings surpass about 24 feet, however, as the space then begins to resemble a church or mall, Lencioni notes.
A lower ceiling fosters a more intimate atmosphere. Below a tall, open space, a section of drop ceiling or a floating cloud element can provide intimacy and help to organize space. "Over a bar area, people like to feel enclosed," Lencioni says, which makes a lowered ceiling a common design choice for these areas.
Aria used a drop-ceiling treatment with embedded light fixtures over a section of booths at Nando's in Waugh Chapel, Md. The ceiling material, a "knotted hemp" wallcovering, and the walls, covered in frieze-textured plaster, in this part of the space do not appear in other parts of the restaurant. That's by design, as it helps distinguish the booth seating from the rest of the interior and convey a more secluded, romantic mood.
Though many chains keep ceiling designs simple, Red Robin Gourmet Burgers is one brand that devotes considerable attention to the view above. The chain caters to three distinct demographic groups: families with small children, teenagers, and adults without kids. Each restaurant has distinct areas earmarked for each group.
"Our ceilings are typically higher than those of our competitors," says Jason Rusk, Red Robin's vice president of brand transformation. Varying ceiling heights with drop ceilings and the use of distinctive decorative elements help distinguish the three areas from each other. The chain recently rolled out a new interior design concept at a few locations in the Norfolk, Va., area that uses more drop ceilings to delineate spaces and absorb sounds, which can be essential under high, open ceilings that readily reverberate noise.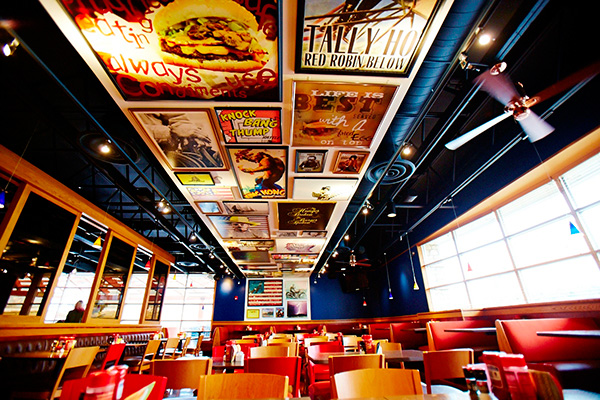 Acoustics: Can You Hear Me Now?
In a media landscape where bloggers and social media sites have a large influence on public relations, complaints can spread quickly. Excessive noise represents one of the most common gripes from restaurant patrons, Coben says. Several negative reviews on Yelp can be enough to deter many diners from choosing a restaurant, so keeping ambient sounds at a reasonable volume should be a high priority in most designs. High-end establishments that cater to a date-night crowd looking for an intimate experience remain keenly attuned to the space's acoustic traits.
On the other hand, some restaurants want to create a vibrant and much louder atmosphere. "Chipotle is one of the hottest brands around, and they like a livelier space," says Carmen Onken, senior vice president, GLMV Architecture. Chipotle, in fact, is a perfect example of an interior designed for boosting ambient sounds. The hard materials inside the quick-service Mexican chain's sites, including metal tables and chairs, polished concrete floors, and high, open ceilings, reverberate sound.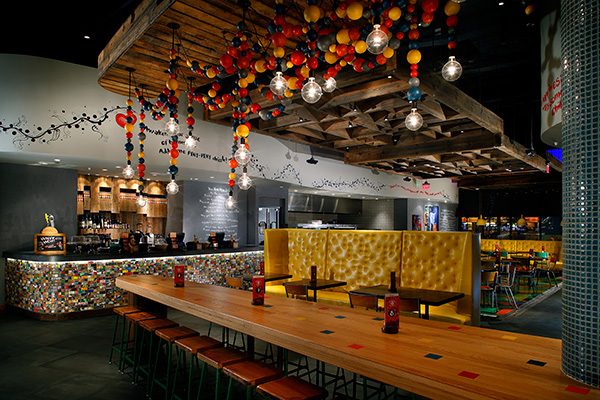 Choices of flooring and furniture materials often create a need for acoustic dampening elsewhere. The advantages of hard-surface floors — better durability and ease of cleaning — compared to carpeting make them a desirable choice for high-traffic areas. Offsetting the acoustic reflectance of these materials, however, typically requires the use of quieting strategies up high.
One tactic that works: varying ceiling surface heights. "Flat surfaces reflect sound from directly where it comes from, while texture spreads out the sounds," notes Griz Dwight, president of GrizForm Design Architects in Washington, D.C. More than a few restaurants have hired GrizForm to redesign space in order to reduce the acoustic volume inside their establishments, he says. Installing hanging acoustic dampening panels, floating clouds or drop ceilings creates uneven surfaces that help prevent sound waves from bouncing around. These elements, typically composed of soft materials, also absorb sound by their nature.
An acoustic-dampening paint containing ceramic beads, developed by NASA, is another material that breaks up flat surfaces and dampens sounds. Dwight says that this material, which yields a suede-like finish, has been useful as a quieting surface on several projects.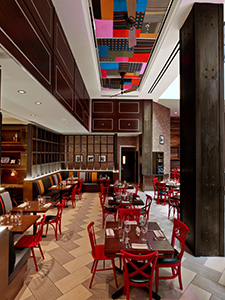 Many types of materials have sound-absorbing qualities. At The Freehouse, spray-on acoustic ceiling material above and around the keg tops helps offset the noise reflectance of the metallic design elements. "We didn't want a bright sounding room," says David Burley, CEO of The Freehouse parent Blue Plate Restaurant Co. Having been in the restaurant business for 20 years, Burley says he's been in too many loud rooms and was adamant that the space not be cacophonous.
In some cases, the location of a space impacts acoustic concerns. For example, a restaurant underneath a hotel or office building may need to add material to the ceiling to achieve acoustic separation from the floor above. "If you have a noisy bar, you don't want to disturb people staying in hotel rooms," Lencioni says. If an eatery is located below a parking garage, acoustic isolation will muffle the noise from vehicles. Moving vehicles can also cause noticeable shaking below. "You may also have to compensate for vibration using vibration isolators, or you can get shaking lights," he adds.
Aesthetics: The Wow Factor
Like every other aspect of an interior space, the ceiling can and should reinforce the design motif. For example, horizontal wood ceiling beams, which convey warmth and a classic look, can echo down to the floor with vertical wood beams stained the same color as the overhead beams, Lencioni says. The Waugh Chapel Nando's unit reflects the color of the beams in its wood flooring to give the interior a cohesive appearance. Reclaimed wood was used throughout the space. Ropes resembling those used in tall ships centuries ago hang from the ceiling to evoke a nautical theme.
Splashes of color in ceiling elements that echo colors used below represent another effective approach to creating a cohesive look. In the Nando's at the Arundel Mills mall in Hanover, Md., light fixtures hanging from the ceiling feature colorful beads that showcase the same primary colors that appear in inlays on a narrow wooden counter next to the bar area. The bar's glass facade also reflects some of the same colors.
In some cases, design flourishes in the ceiling serve as focal points. Paintings, custom-made quilts, pop-art light fixtures, and multicolored LED lights in mesh netting on which pictures can be created are some of the possibilities mentioned by designers.
For chef David Burke's new restaurant, David Burke fabrick, in the Archer Hotel New York, Coben created a unique quilt to mount on the ceiling. Composed of remnant fabric pieces sourced from an upholstery shop, the colorful creation juxtaposed against the white ceiling surrounding it is a conversation piece. It doubles as an acoustic-dampening element.
Empellón al Pastor, a bar and tortilleria opened in September 2014 in Manhattan's East Village, features a ceiling mural painted by a graffiti artist. It may not attract as much attention as the overhead view of the Sistine Chapel, but the Mexican-themed restaurant's ceiling, which features visuals depicting immigration, guns, money and other elements makes a strong, unique statement.
Red Robin features Americana-themed works of pop art at its 450-plus locations, such as wall murals composed from old 8-track audio or VHS videotapes. Sometimes, the ceiling is the setting for these features.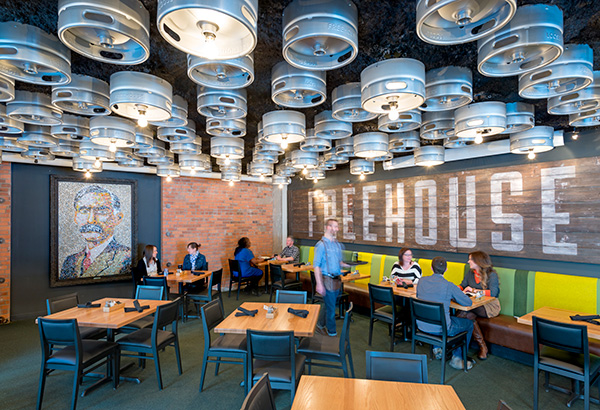 Budget: The Limiting Factor
Designers and owners may enjoy exercising their creative muscles when designing interiors, but a project's budget always looms over planning. Certain elements, such as the size and placement of tables, go a long way in determining the site's capacity and directly impact the bottom line. The ceiling design can contribute to the vibe and atmosphere of the establishment, but its return on investment is rarely quantifiable. "Is it going to get an extra seat filled?" Dwight asks. Not likely — thus the relative rarity of distinctive ceiling design.
With ceilings not usually top of mind during the predesign phase, their costs can catch owners off guard. In addition to the most visible elements, such as drop ceilings and light fixtures, more hidden components, including HVAC vents, sprinkler heads and acoustic-dampening panels, add costs. These mechanical elements are typically not very attractive. Designers try to find ways to hide them or blend them into the rest of the ceiling as best they can. In an open ceiling concept, designers may paint these mechanical elements a bold color to make them stand out.
Sometimes, simple concepts make bold aesthetic statements economically. At a Legal Sea Foods location at Reagan National Airport in Washington, D.C., GrizForm employed smoked acrylic panels placed within a brass grid drop ceiling. Typically used as vertical dividing elements, the panels are highly unusual as a ceiling feature and add a distinctive look at a reasonable price. "Using standard things in an unusual way helps to keep the budget down," Dwight says.
When unusual objects such as the 50 keg tops at The Freehouse come into play, construction may become complicated. In this case, each keg top weighed about 50 pounds, making installation difficult. "Getting the kegs to be at the same height and pitch was tricky," Burley says, and that added hours to the construction process.
Ongoing maintenance cost considerations must also factor into ceiling design. Replacing light bulbs in ceiling fixtures can be time consuming, so using long-lasting LED bulbs is desirable even though the initial costs of the bulbs is higher than alternatives. Flat surfaces in light fixtures and other elements hanging from ceilings tend to collect more dust than others. Red Robin's new interior design takes that into account, swapping conical fixtures for multishaped ones to reduce the need for employees to fetch ladders and spend hours cleaning ceiling items.
Codes: Rules Impact Design
Yet another consideration is that novelty in ceiling design gives building inspectors pause and can complicate permitting. At Barbatella in Naples, Fla., GrizForm attached 1,400 plaster medallions painted bright green to the walls and ceiling. The local fire marshal was used to seeing flat tile ceilings in restaurants, Dwight says, and gave the medallion features extra scrutiny. "He wanted to know how they were hung, whether they would block sprinklers, and had many other questions," Dwight recalls.
The main challenge to installing these features, however, was convincing the contractor that the concept would work and to do the considerable amount of labor involved. "It took a bottle of vodka and a lot of pleading," he laughs, but in the end all went well.
In the back of the house, health codes pertaining to kitchens limit choice of materials and design of ceilings. They must be easy to keep clean to prevent mold and mildew. As a result, they tend to be "very dumb and generic looking," Dwight says. In establishments with open kitchens, designers typically hide these generic-looking ceilings using drop ceilings with front-facing soffits or metal screens.
Indeed, when you look overhead in a restaurant, you see the result of numerous choices and factors that go well beyond visuals. Whether sporting distinctive, attention-getting elements or more conventional materials to blend in with the overall interior aesthetic, the design of the fifth wall merits careful scrutiny.