Page 2 of 4
Orange Leaf
HQ: Oklahoma City
Concept: Self-serve frozen yogurt
Technomic Fast 50 Rank: 5
2013 units/growth rate: 300 (15 company-owned)/38 percent
2014 units (projected): 400
Project management software: Yes
Average unit size: 1,200 to 2,200 square feet
Average build-out: 45 to 60 days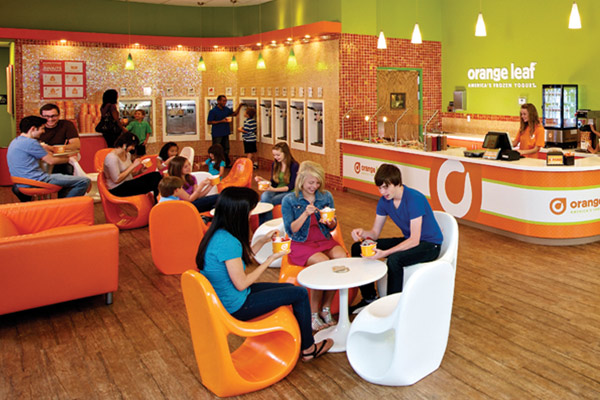 "We have been adding 100 units a year, and currently have over 70 under construction," says Vincent Provenzano, franchise development manager for Orange Leaf, whose growth last year saw the company purchase 800 frozen yogurt machines.
Orange Leaf likes big cities and so far has opened franchised stores in Houston, New York City, Indianapolis and Chicago. Provenzano offers three reasons for the franchisor's ability to grow so quickly: a proprietary yogurt with 70 flavors; a supportive franchise system; and a site-modeling plan that enables it to select good sites within strategic markets.
The site-modeling plan includes two types of units — traditional stores and kiosks — the latter of which is a recently introduced lower-cost alternative. "Most of our [traditional] stores are in strip centers built within the last two years. We are not taking retired spaces, nor are we looking for conversions of other frozen yogurt shops. We're taking over a vanilla shell," explains Provenzano, adding that desirable co-tenants include Starbucks, Chipotle and Qdoba. The franchisor prefers that franchisees put their stores in malls in middle- to upper-income areas.
The new kiosk prototype targets "amusement parks, college campuses, malls and anywhere there is a captive audience," Provenzano says. Orange Leaf opened its first kiosk in a San Antonio mall.
Field service manager Trent DeSpain says current franchisees are a mix of mom-and-pops and multiunit operators. "We are starting to attract a lot of bigger franchisees," he says, referring to experienced franchisees capable of opening multiple stores. The cost to open a full-size unit ranges from $354,000 to $476,000 (including a $30,000 fee), according to DeSpain.
The officials say they have developed relationships with real estate brokers by attending conferences. Provenzano will introduce a broker to potential franchisees "at the point I know they are serious" — and if he knows a broker in that market. Otherwise, the franchisees are on their own.
Franchisees can choose their own general contractors to build their units. DeSpain gives GCs a construction manual that lists approved vendors and specs products. If franchisees do not know a GC, the franchisor recommends contractors it has worked with, Provenzano says.
Of course, construction can't begin without permits. DeSpain doesn't recommend hiring expediters to help speed up permitting. "Basically, your name gets moved up the list," he says, though he concedes that expediters are helpful when an opening is scheduled for a specific date.
The officials encourage franchisees "to lean heavily on us" during construction by, for example, calling Orange Leaf's opening store managers with questions and having GCs call the chain's construction managers. "We get these mom-and-pops, and it's their first time and they don't know what to expect," explains Provenzano. "They're nervous."
To keep things on schedule, moving quickly and smoothly, franchisees follow construction progress with Orange Leaf's project management software. It tells them week by week when to buy yogurt machines and POS systems, get their business licenses and so on. "We even make sure they go to the bank to get change for the registers," chuckles DeSpain. "We're basically holding hands."