This fast-casual comfort food concept draws inspiration from autumn in Northern Michigan to meet the needs of its diverse customer base.
Michigan-based Zoup! opened its doors in 1998 after its founders recognized the emotional connection people have to this classic comfort food. Last month, the chain opened a location in St. Joseph, Mich., its 81st unit and 1 of its first stores based on a new prototype.
According to director of new store development Robert Kirma, the design of these units creates warm, comforting environments that offer diners a degree of privacy for relaxation or work. Inspired by autumn in Northern Michigan, Zoup!'s new color pallet features browns, vibrant reds and yellow golds.
Customers walking into a new Zoup! are guided to the ordering counter by wood-grain vinyl plank flooring as well as bright white LED lighting over the counter that naturally draws the eye. Queuing panels are made of black metal poles and wood panels carved with geometric patterns, which also guide diners to the counter. The chain doesn't use much signage to direct customers, simply because customers tend not to notice wall signs, Kirma noted.
The ordering counter is made of a solid acrylic-based material with granite accents at the customer touch-points, such as the point-of-sale station, and the soup counter cap.
"We've developed an efficient design that allows for multiple touch points with the customer," said Kirma. "Whether it's at the soup counter where we tell our story and encourage customers to sample the 12 always rotating soups, at the register placing their orders or at the handover area, we try to minimize the confusion to allow employees to reach out to customers."
Once customers have their order, they can choose between booth seating, which makes up about 30 percent of the each unit's 50 to 55 seats, tables or bar-height counter-style seating.
Like the ordering counter, the seating areas also use LEDs, but ones that produce a warmer tone of light. Zoup! selected LEDs throughout its stores, said Kirma, because of the quality of the light they produce is more consistent than other lighting options.
The tables and booths have wood-grain laminate tops that resemble, but don't completely match, the vinyl flooring. Chairs are solid wood with an ebony finish and have light blue vinyl cushion seats. The booth seating has the same vinyl cushioning, and fabric backs. The design of these items contributes to the warm, welcoming environment.
Another design element contributing to the warmth of these units is the brown and red carpet tiles in the dining areas. "The carpet creates that warm comfortable dining experience, Kirma said. "When you just have hard surface throughout an area, you really can't create that warmth and comfort they're looking for. Is it a little bit harder to maintain? Probably, but we do try to find materials that can easily be cleaned."
Instead of opting for an open floor plan, the chain takes many steps to create distinct sections that provide customers with a semblance of privacy. Wherever possible, Zoup! uses architectural features like columns and alcoves to create private dining spaces. Larger areas are sectioned off with the same wood panels used for queueing lines and with different color carpet tiles that create the feel of separation between spaces.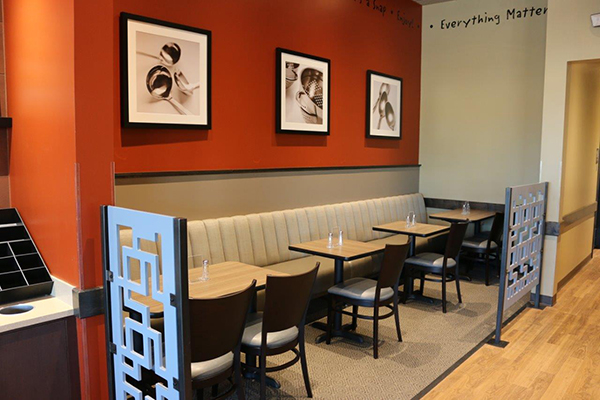 These distinct spaces typically attract families coming in for an evening meal, as well as lunchtime diners, often people stepping away from the office of job site, said Kirma. For the latter, the spaces can serve one of two roles. They offer room and privacy to plug in to a power outlet — available at all booths — and work through lunch or they provide a place to stop and unwind for a few minutes and enjoy a meal.
"The purpose [of Zoup!] was to create an experience where the intangibles of soup are brought to life in an environment where everything matters," said Kirma. "This is the heart and soul of Zoup!. It's our passion and our purpose."