Denver-based fast-casual chain Garbanzo Mediterranean Grill is continuing a brand refresh that kicked off last October. Headlining the changes is a new "urban" design prototype, introduced at the chain's new 2,300-square-foot location in the 16th Street Pedestrian Mall in downtown Denver.
The prototype, which will be rolled out in all Colorado stores and then through the entire franchise system, features design and décor changes as well as operational enhancements that promise to boost average unit volumes.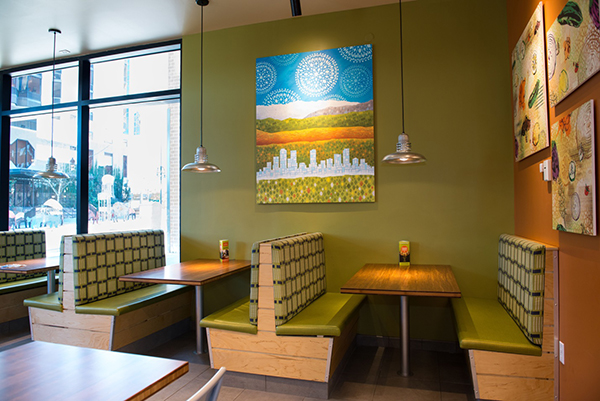 The company also recently brought on a new branding firm, Brand Iron, to complete phase two of its refresh initiative and help implement the new design in additional stores. Kasey McWilliams, who has worked on the project both as a Garbanzo team member and now with Brand Iron, says the prototype features a new color palette of greens, yellows, browns and reds — "colors that derive from the spices of the Mediterranean," she says. A paprika-colored feature wall has graffiti-style writing on it highlighting ingredients, menu items and key brand messages. Natural birch wood is used in furnishings and finishes and colorful, large-format artwork adorns the walls, while patio lights strung across the ceiling add to the ambiance.
"We worked with Pascha Scott [co-founder and principal of Vertetude, Brand Communications and Retail Design] to create the prototype and now Brand Iron is working on additional elements, including a new logo and new key messaging that will sharpen Garbanzo's focus on its Mediterranean heritage and the freshness of the food," McWilliams says.
On the operations side, Garbanzo's new prototype targets both guest experience and speed of service. Enhancements here include the addition of breakfast; a to-go and online order pick-up window that includes a new grab-and-go and delivery of catering orders, which the chain expects to see increase in its new urban stores.