Lake Forest, Calif.-based Del Taco is hungry for growth. This Mexican brand — strong on the West Coast and in the Southwest — is making its way east with targeted expansions in Atlanta and Orlando, Fla.
What started as a single restaurant in 1964 has grown to 560 stores in 15 states, with just over half of the stores company owned. The chain plans to keep that mix going. "We feel it makes for a well-rounded brand that's concerned with the top line and the bottom line," says Jeff Little, senior vice president of development. "On the company side, we are looking for [cities] big enough to put in 10 to 15 stores quickly, so that entails larger markets. On the franchise side, we'll go into smaller areas."
What is your background both before and with Del Taco?
JL: I've been with Del Taco for just over two years and cover franchising, real estate, design, franchise recruiting — anything that comes under growth is in my shop. Prior to this, I was with El Pollo Loco in a similar role, and prior to that, I was with Yum! Brands for 20 years. I worked for all the Yum! brands at some point and ran through lots of roles — from director of development and strategy to real estate.
What do you enjoy about working in development with Del Taco?
JL: What drew me to it was, as the development guy, you want to be building and growing a brand. Yum! is going asset-light, and I love the idea of taking a brand like Del Taco and saying, "Let's introduce a brand to the rest of the U.S." We're very strong out here in the Southwest and very, very strong in the far West, and people think of us as equal to any Mexican restaurant you can think of. So, we said, "Let's take a great brand and put it in other cities." It's really exciting.
The growth is definitely ramping up. Prior to me getting here, we were building single-digit numbers of restaurants per year. We are doing well north of that today, and our strategy is to get to the mid-single-digit growth — 3 percent to 7 percent growth — which on a base of 500 to 600 restaurants is upwards of 30 to 40 restaurants per year. We still think we have some growth out here in the West, but we are certainly penetrated here, and the majority of growth will be eastern.
What are some of the challenges of your job?
JL: We are small and nimble and decisive, but the lack of bureaucracy means you have fewer folks trying to pull the sled. On a brand level, the biggest challenge is, how do you take a brand that has 50 years of history in California — and a cult-like following — and how do you tell people who have rarely experienced the brand about all that? There's definitely a brand culture about who and what we are. We are fortunate because we do have a bit of that Chick-fil-A or In-N-Out fanaticism, so that creates some awareness when we come to new markets.
A lot of people come out [West] and experience the brand in California or Las Vegas. And people who are transplants from here know about it. We do try to bring [franchisees] out here so they can experience the brand and the culture and pass that back to their burgeoning organizations.
When we think about going to new markets, we want excitement and buzz and great real estate. We try to do some things that create awareness that we're coming.
Is it hard to get franchisees due to lack of awareness?
JL: The food industry is a really small industry, so you'd be amazed at how aware people are of brands that are not near them. We've had 18 straight quarters of sales growth. We are growing units, growing sales, growing transactions, and people in the industry are very aware of that. It's not easy to entice people to try a new brand.
How do you find franchisees?
JL: We advertise in the markets we're excited about. We attend trade shows and are loud and proud in the industry. Word of mouth is great. We like franchisees who are already in the industry and with noncompetitive brands, so we'll be forthright in saying we'd like franchisees who know how to execute and operate in their market. It's a combination of all those things.
You have to touch a lot of folks to find the few that are right. We are very transparent about what's right. It's myriad efforts and avenues that you have to attack, and we vet people. It's like a marriage — it's a strong commitment to each other, and we make sure we spend time getting to know them. At the end of the day, it's about spending time with [potential franchisees], bringing them out to the West, going out to their market, and seeing the culture and the teams they've built.
We're looking for the ability to be a great operator, build a great culture, build a great team and be excited.
What are the brand principles Del Taco wants to adhere to as it expands, in terms of design?
JL: In terms of design, we are QSR-plus. We have the speed and convenience of a drive-thru but better food than a typical QSR, so we lean into that fast-casual space and at a price point that's not $12 or $13.
We educate customers about those fresh cues and the quality we bring, and that's important. We are looking into refrigerators with glass windows, so you can see we have blocks of cheese we're grating on-site; we bring in fresh whole avocados and make guacamole on-site; we make salsa on-site; and our beans are brought in as raw pinto beans. We are creating an open kitchen, and you can see all this — the block of cheese is next to a box of grated cheese. So our design is about informing people about freshness, which is what we're all about.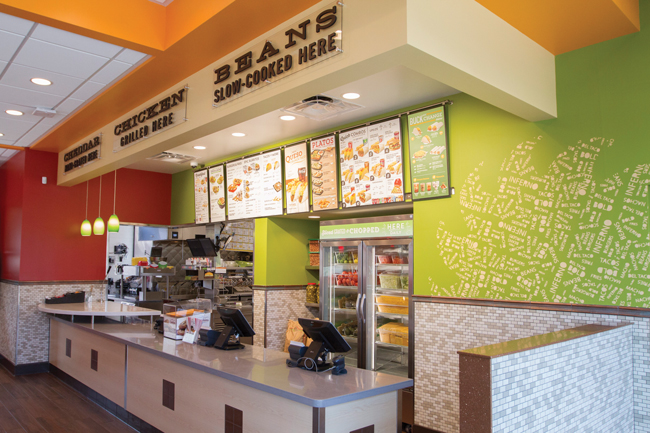 Image courtesy of Del Taco
Will all units be designed the same?
JL: We think we have the right formula for success. We are not looking for different versions of Del Taco; they'll all feel fundamentally the same. You'll see the Del Taco you know and love. There are very small changes in some; for example, we have a restaurant in Atlanta and we tie in some store decor to the local university. But the restaurant design is not going to be different regionally.
You have two restaurants open in Florida and plan a big push into Orlando. Why is Orlando such an attractive market?
JL: We have a long-standing West Coast franchisee who went there and is looking to grow. There are four million people there, so when we think of markets of that size, we're looking to build awareness rapidly and get media support. In addition to our existing franchisee, we're looking to bring in more people. So far, there are two well-placed restaurants to help start our brand.
What do you look for in a new market?
JL: Because of the media today and the awareness of social media, people are looking for a healthy option. We're trying to replicate the regionality of California and the Southwest in the Southeast. We have distribution that will take us pretty much anywhere over America. If we have someone in Milwaukee, we'd move to Detroit. If we find the right partner, and we mutually come to the same conclusion, we'll go. The coasts aren't too critical for us. I do think there's a healthier aspect of being coastal, but we think we can be a national brand. +