Johnny Rockets opened 61 units globally in 2016, an increase of more than 10 percent. The chain attributes this success to its brand refresh, Diner 2.0, and plans to grow its total units to 385 by the end of 2017.
Johnny Rockets' new prototype at its Destiny USA location in Syracuse, NY.
The new design takes the brand from its traditional diner roots to a modern dining experience. Diner 2.0 includes new decor and its high-efficiency kitchen equipment increases peak hour capacity by 58.2 percent, according to Johnny Rockets.
"From our brand refresh that received great feedback from our guests and franchisees, to our drive-thru prototype that came to fruition and is exceeding expectations, we have updated our offerings," says James Walker, president of operations and development. "All of this — especially the brand refresh — is a crucial part of our brand's evolution, and we plan to update more than 25 franchise and 5 corporate locations to Diner 2.0 in 2017."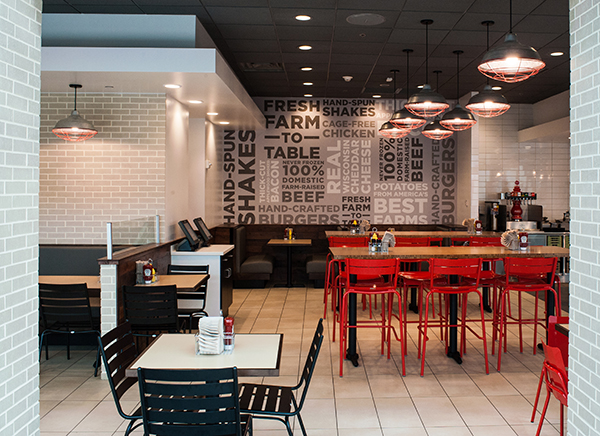 Along with introducing a drive-thru expression, Johnny Rockets also rolled out Express and Kiosk prototypes in 2016. Johnny Rockets' development strategy will emphasize available franchising opportunities with Express and Drive Thru units in 2017. The chain currently operates 35 locations with its Diner 2.0 design.