Three decades after opening its doors on Chicago's Magnificent Mile, where Oak Street meets the lake, award-winning chef Tony Mantuano's legendary fine dining restaurant, Spiaggia, completed its first major refresh.
Following a nearly six-month renovation period, the restaurant reopened in late May with a dramatically updated look as well as menu updates.
Mark Knauer of Chicago-based design firm Knauer, Inc., led the redesign, which Mantuano has described as modernized, more accessible, airy and refreshing. Upon entering the lobby of the second-floor space, Spiaggia guests are now welcomed by a new, floor-to-ceiling, glass-enclosed and temperature-controlled wine room showcasing 1,700 of the restaurant's nearly 5,000 bottles.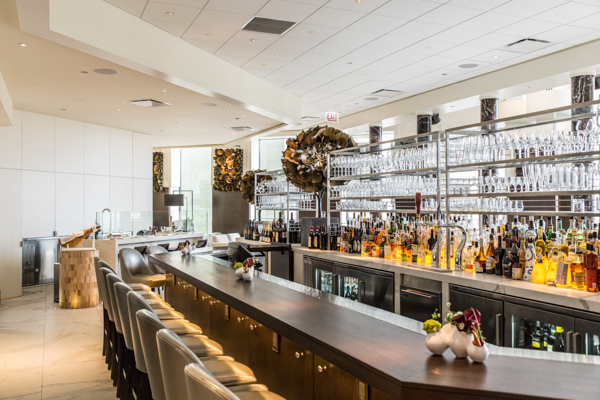 Another new feature: the 13-seat Spiaggia Bar (above). Positioned in prime real estate at the center of the restaurant, it offers views of the dining room and the windows beyond through the glassware racks. Signaling a new era in fine dining, the bar is wired with multiple A/C and USB outlets for charging phones and computers from every seat.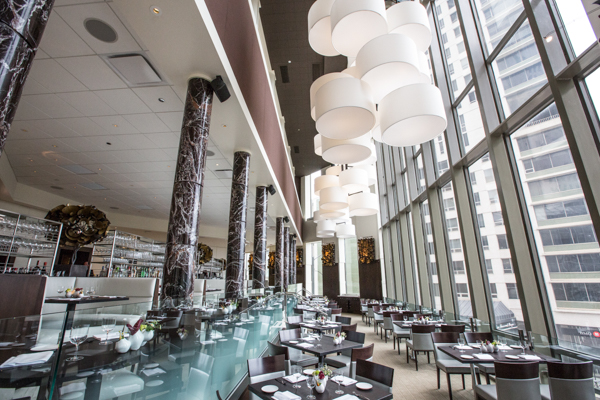 With its two-level tiered seating, the 90-seat main dining room continues to offer its famous views overlooking Oak Street Beach and Lake Michigan and features a mixture of tabletops and curved, soft leather booth seating. The former white tablecloths have been removed to expose dark brown oak tables.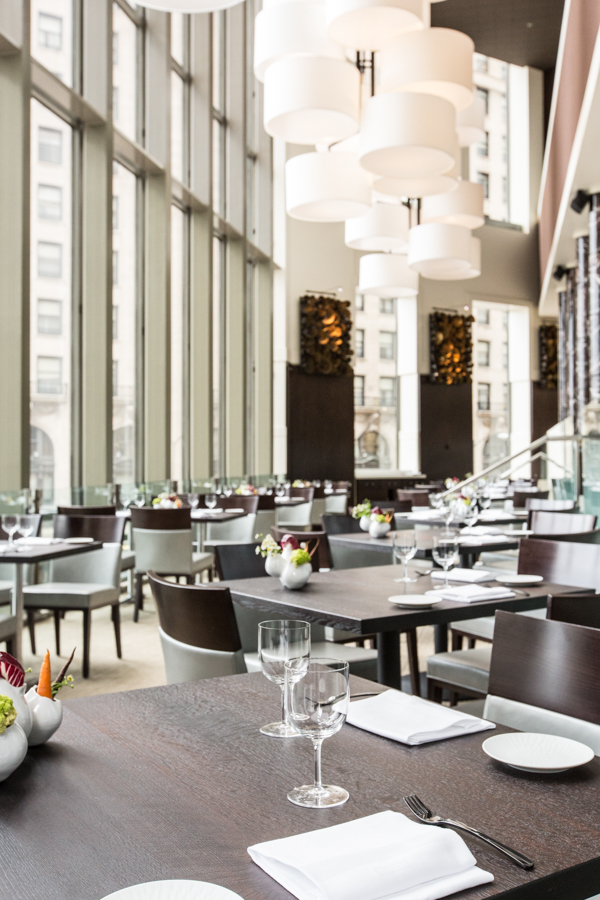 Nestled between eight marble columns — the only design holdovers from the previous space — are three 18-foot, white cloud-like chandeliers providing warm light along with natural daylight from the wall-to-wall front windows. Custom-designed, patina metal sculptures of trees and leaves bring a sense of nature to the space.
In re-imagining Spiaggia, Mantuano added a new 30-seat Spiaggia Lounge offering more casual seating with cocktails and small plates for "come-as-you-are" pre-dinner cocktails or after-work drinks and snacks. A small charcuterie station just to the side of the lounge offers a few counter seats and a view of the bright red, traditional Italian prosciutto slicer. A glassed-in cheese cave just behind the slicer holds a variety of domestic and imported cheeses at the perfect temperature.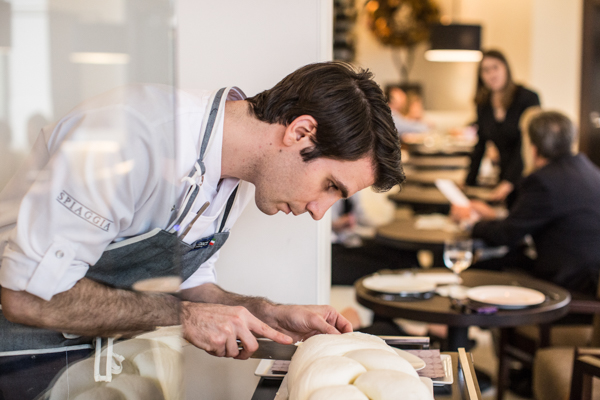 Executive Chef Chris Marchino developed a new menu for the dining room focused on four-course, modern Italian dining with inventive twists and a seasonal six-course tasting menu. Marchino also developed a menu of 15 dishes for the Lounge, including hand-braided mozzarella (above), a variety of prosciuttos and house-made focaccia with lardo.
The recent Spiaggia refresh also included updates to Spiaggia Private Events, the event space one floor above the main dining room with space for a 170-guest seated dinner or 300-guest reception. Highlights of the refresh in that area include new menus and more options for different types of functions as well as the addition of a brunch menu for weekend daytime events.