Page 2 of 2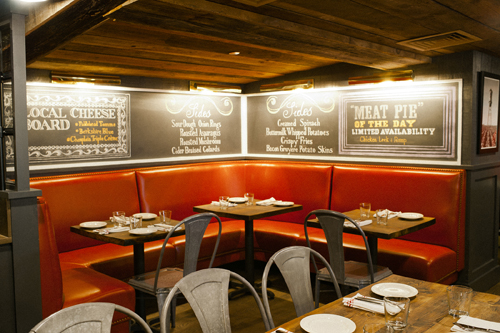 The Classroom. The other new space acquired during the remodel, this additional dining area sits beyond the den, separated from it in part by open display shelving stocked with early 20th century artifacts. The Classroom seats 30 and includes a working fireplace and a cozy banquette running the perimeter of the room. Chalkboard walls (hence the "classroom" nickname) merchandise drinks and menu items such as PARK's signature meat pie of the day and local cheese board selections. Lighting features antique blown-glass bottle fixtures and overhead table sconces on an adjustable pulley system.
Lee notes that ceiling heights, one of the biggest challenges of the project, start at around 6 feet 6 inches in the main dining room and bar area and are highest in the classroom area. "As you walk through the main room into the den area and then to the classroom, it's like a car driving up from the first floor of the garage to the second. The ceiling gets higher as you go."
He's also quick to point out that, while distinct, the four areas work together in a cohesive way. "If you're in one of them, you still feel like you're in the same restaurant," he says. "One of the things that we really tried to do is create sight lines so that even if you can't see it clearly, you know that there's something else there. When you walk in, the place feels like it is larger than just the main dining room and bar because at the end of it you can see the den, and the open shelving between the den and the classroom gives you a hint that there's even more.
"The rooms are close to one another, the sight lines flow from one to another, and there are similar design elements in each of the rooms to bind them together. Elements that are different, such as the wood-plank, reclaimed-wood ceiling in the main room and the vaulted brick ceiling feature in the den, still feel right together."
A Modern Sensibility
Boston is home to hundreds of traditionally themed English and Irish pubs, but Lee and Niemitz agreed that, while aspiring to offer the comfort and familiarity of those establishments, PARK would take a fresh approach to the genre. For inspiration, they headed to New York City.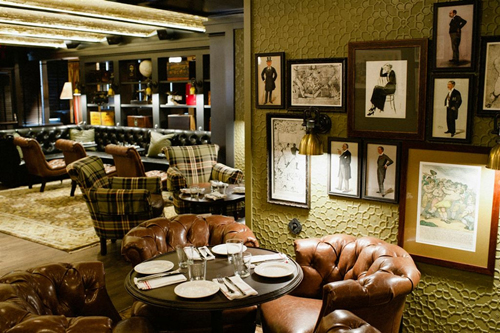 "We spent some time going through lots of eclectic cocktail bars and lounges in lower Manhattan and brought back a lot of nice ideas from that experience," Niemitz says. "We wanted to push the envelope a bit for Cambridge, which likes its down and dirty barroom-type venues. We didn't want to go too upscale, but we did want to give it whole different feel and vibe. So, it's a little more dressed up. It's got a nice mix of finishes and materials and interesting historical elements. It's not a modern place, but it has a modern sensibility in its look and feel as well as in the food and style of service."
The look and feel blends antique and vintage, plush and industrial. New finishes were put in for all ceilings and walls, new light fixtures were installed throughout and the original Redline floor plan was reconfigured to move from what had been a straight bar along a wall to a more central, prominent U-shaped bar. Flooring is a mix of original and new oak planks. The two additional spaces acquired for expansion – a former women's apparel shop and a yarn shop — were basically blank slates ready to be incorporated into the new design. The original restrooms and the approximately 800-square-foot kitchen were maintained, and a pair of restrooms was added to meet code requirements.
"All told, the space is probably 90 percent to 95 percent new," Niemitz says. "A lot of places try to save money by keeping a lot of what's there in existing spaces when they remodel, but they still end up spending a lot of money and ultimately not getting the look and feel they want. This was a nice experience because we really could start virtually from scratch."
Adds Lee, "I think that when you're working with a challenging space, if you make good decisions and the place is designed well, you're left with a unique venue that guests really appreciate."