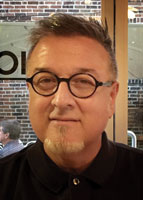 James Staicoff, IIDA, director of hospitality for Oculus Inc., began his interior design career nearly 40 years ago in St. Louis before relocating to Portland, Ore., in 1992. He has developed Oculus as a new force in hospitality design, rolling out high-performance design aesthetics that support change and promote value for clients. Award-winning projects he has worked on include Woodlark Hotel and sister restaurants Yonder and Mae, all in Portland, and Hi-Pointe Drive-In in St. Louis.
Experiential storytelling. Guests are flocking to restaurants for more than just food – they want to know the WHY behind the menu. For elevated fast-casual restaurant Yonder in Portland, Ore., we wanted the space to reflect Chef Maya Lovelace's southern roots and upbringing in North Carolina where she learned traditional Appalachian cooking by the side of her grandmother, Mae. Layered branding and graphic treatments meld together seamlessly into a singular narrative (as illustrated by a brass chicken drumstick inlaid in the concrete floor at the entry) and a forthcoming "Grandma Wall" lined with portraits of friends' and staffs' grandmothers lends a heartfelt tribute. Lovelace's penchant for compelling storytelling is reflected in the playful mural that accentuates the back wall. We used a haint blue, a nod to classic porch ceilings in the south that were meant to ward off evil spirits.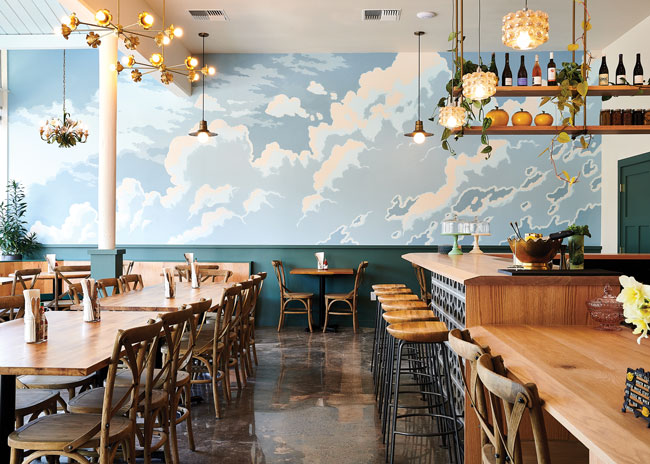 Seating as a choice, not a directive. Guests will let you know how and where they want to sit, and the best-designed restaurants offer a variety of seating options. Flexibility is always key in seating design — a banquette with movable two-tops can seat small or large parties, while unwieldy six-tops are typically only used by two or three people at a time (plus are difficult to relocate). Consideration of each restaurant's target market is equally important. Older clientele find bar-height stools cumbersome and painful, especially if they're backless. If the operators are trying to keep their bar filled, they may have trouble keeping guests seated for more than half an hour without irritation settling in.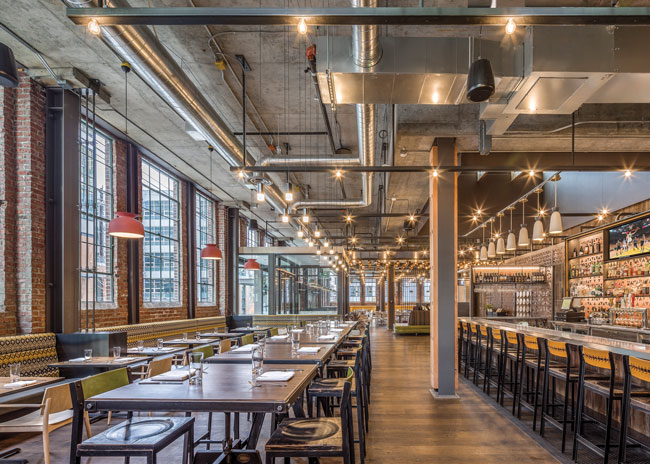 Shrinking the zone of confusion. When designing a restaurant, we strive to reduce the zone of confusion between the front door and first human contact. The longer the walk, the more unsure and annoyed a guest might become, lessening their enjoyment (and impacting their Yelp review). Clever designers will strive to offer abstract information, such as visual beacons, to catch the first-time guest's eye without resorting to pointed-finger signage. For Yonder, our design features a classic felt menu board at the counter to capture the attention of hungry guests, where they can order some of the area's best fried chicken and grab a seat at the quirky breeze-block bar or make their way to one of the restaurant's 36 seats at various custom round and rectangular oak tables and comfy banquettes that wrap around the dining room.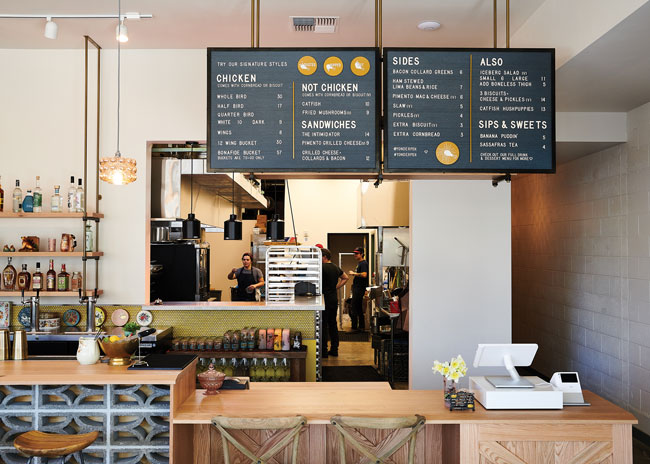 Bonus Trends
Food delivery apps. With the rise of on-demand food delivery apps, how soon before there is elevated cuisine created in restaurants without in-house dining, offering great food and high margins with little overhead or waitstaff. As the meals are intended for delivery only, they will be specifically designed to travel and present adequately. The restaurant will simply consist of a commissary kitchen in a house, garage or warehouse.
Culinary collaborations. Portland, Ore., just celebrated Roux, a first-time event series honoring women chefs. The two-day food festival was comprised of seminars, workshops, provisions bars and collaborative meals designed by various chefs. There is also a trend toward more restaurant collaboration among chefs of various backgrounds and ethnicities. As an example, Akkapong "Earl" Ninsom of Langbaan + Paadee, Matt Vicedomini of Matt's BBQ, and Eric Nelson of Shipwreck recently won Oregon Live's 2019 Restaurant of The Year award for their new Thai barbecue restaurant Eem.
"High"-tened hospitality. With 33 states (plus Washington, D.C.) legalizing marijuana for medicinal use and 11 more (plus Washington, D.C.) legalizing it for recreational use, the world of hospitality service is about to change forever. With the opening of the country's first cannabis cafe in Los Angeles, new precedents are being set. Savvy hoteliers in cities such as Portland, Ore., Seattle and Denver are competing to become cannabis epicenters to drive tourism. In the very near future, expect hotels to offer amenities such as rentable vented smoking rooms, room service with cannabis menus, CBD-infused toiletries, and even a check-in app that will pre-stock your room with your preferred strains.
Imagining what the guest is thinking. The guest experience begins outdoors, as soon as the guest first starts their journey from their parked car or Uber drop-off to the front door. What does the first-time diner see? Visualize their experience, and design accordingly. Also, designers should remember to allow three to four seat waiting areas for the restaurant's food delivery drivers. Especially with elevated fast-casual restaurants, you don't want the drivers clogging up the order zone.