When it comes to keeping costs under control, there are several measures restaurant operators can take to ensure projects stay on task and on budget. In terms of construction, architecture and interior design, the way forward isn't to cut corners. Rather, it's to have a clear plan and then making decisions based on the costs.
As the president of CoreLife Eatery, Larry Wilson asks for three separate bids for every project they do. As the former owner of a construction company, Wilson says he also has weekly phone calls with each contractor and builds in a 2.5% budget buffer on each project. While the industry standard is 5%, "we do 2.5% because we manage it and budget it well so we don't have much overage," he says. "We always know where we're at, and we have a team that manages construction. You could say we are maniacally focused on the cost."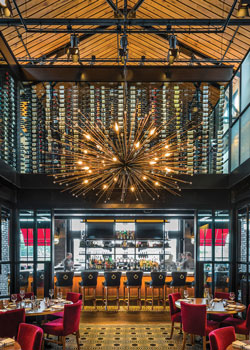 At Bancroft, pictured here, Windover Construction served as construction manager at-risk, a delivery style that incentivizes contractors to stay on time and on budget. Image courtesy of Peter Vanderwarker PhotographyWilson says owning a construction company helped him make better decisions as he navigates CoreLife's growth. "I learned the hard way over time, and that's how I know how to approach it now," he says.
And if operators don't have a team who can help manage construction, Wilson says having a good set of architectural drawings will lead to less mistakes down the line. "You could spend $10 to $12 thousand on bad prints or $14 to $16 thousand on a good set of prints. That's the number one thing that starts the ball rolling, and then understanding the codes is another piece. Research and understand the codes for every location. City to city, and even in the same town, the codes could be different," he says. "If you do your research ahead of time, you will save yourself a ton of money."
Understanding building codes could be a huge cost saver. This knowledge prevents projects from being delayed or even rebuilt because something had to be torn down. In terms of costs, the top influences are infrastructure and design, operational complexities, intended or acceptable levels of maintenance and repairs, and finishes.
Steve Starr, principal of Charlotte, N.C.-based StarrDesign, estimates that construction is 60% of storefront costs, while walls, floors, ceilings and finishes are an estimated 32% of project budgets. Meanwhile, overhead, profit and general contractors are estimated to contribute 18% to the total budget.
In terms of keeping costs on target, Starr advises having the entire design team involved early enough to manage the project from start to finish. "Establishing the team and being transparent about the budget up front can definitely help in terms of keeping the budget on track," he says. "Operators should constantly check against the budget at least three to four times during the design process."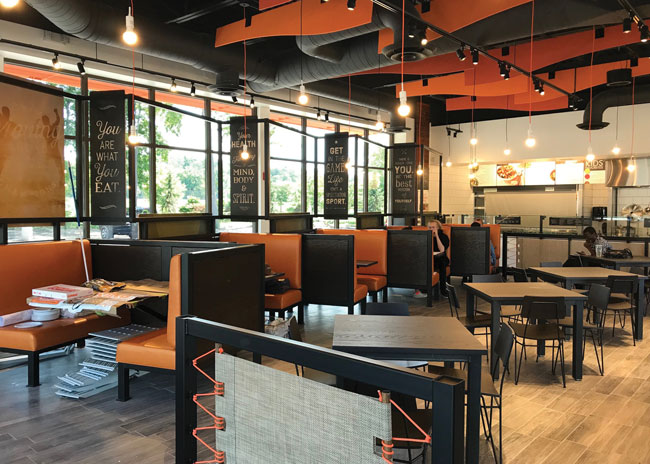 Starr notes it might not be necessary to have several bids for one project because of current economic conditions. "If you talk to almost any general or subcontractor today, they have more work than they know what to do with," he says. "So, projects designed to begin five or even six months out — or even a year from now — are even better. Depending on how much work they have, your job could be something that helps them fill their long-term pipeline. That is of significant value to the contractors and subcontractors. If you can get them on board six months before, you are going to get better pricing. The real value to contractors and subcontractors is in long-term relationships that they don't have to bid on." 
Starr explains that before the recession, subcontractors would hire as many people as possible to take on more work; however, they have since had to terminate workers or go out of business. "This has made people very apprehensive because there is still a mindset that we are in a bubble, and it's going to burst," he says. "The other issue is even if they wanted to staff-up, between the immigration laws and shifting demographics, the labor just isn't there."
In order to get the best pricing for the job, Starr recommends getting the contracting team on the project early, during the design phase. This will work to help outline budget numbers that are "typically more accurate" because they are closer to fluctuations in pricing.
"As architects and designers, we get prices thirdhand, while contractors will have them firsthand. Even for a company like ours, which is so in tune to economic and financing factors, contractors are still better at pricing out projects than we are," Starr says. "Their core competency is taking something, pricing it and building it, and also figuring out alternatives for different ways to build it, if they have the time and the incentive."
Project Methods
In terms of selecting a building partner, there are several methods operators can use to approach the project. The most common are design-bid-build, construction management at-risk, or design-build.
"To decide which is best for your project, you must understand the positives and negatives of each and assess those against your risk tolerance for schedule and budget," says Meg Kearney, project manager at Beverly, Mass.-based Windover Construction.
In terms of design-bid-build, Kearney says restaurant owners contract with an architect for design and can use those design documents to solicit competitive bids from builders. While there is potential for lower pricing up front, as builders are working to outbid each other, operators can lose the value of having the architect and builder collaborate during the design phase over materials, approaches and value-added options that can yield savings in the long run.
"Additionally, when you miss out on the builder's input in the early stages, issues may be uncovered later during construction that can lead to significant cost impacts and schedule delays," Kearney adds.
Meanwhile, construction management at-risk transfers the hazards associated with building a project directly to the construction partner.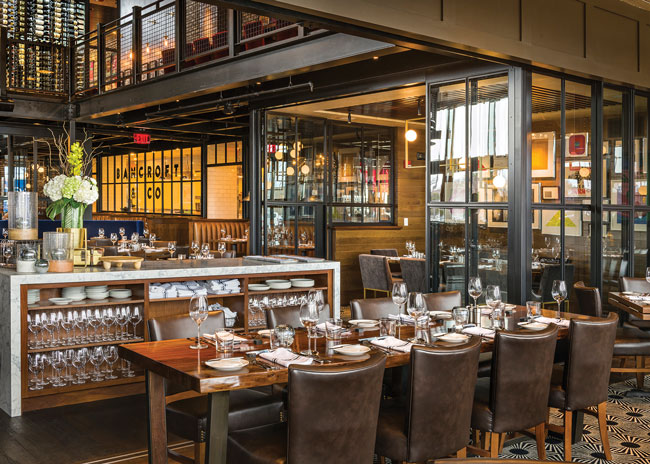 Construction management at-risk and design-build hold the least fluctuation in budget for restaurant owners, according to Meg Kearney of Windover Construction. She served as project manager at Bancroft, pictured here. Image courtesy of Peter Vanderwarker Photography
"With this increased stake in the project's success, the construction management at-risk entity is incentivized to ensure the project hits its budget and schedule, as well as achieves the highest-quality and performance standards," Kearney says. "The construction partner is engaged early in the design phases to support design development by offering counsel and feedback on value engineering options, materials and methods, as well as to provide cost and schedule projections, and for procuring trade partners based on qualifications and fit, rather than cost alone. This results in projects with enhanced certainty and far fewer changes and surprises."
Taking construction management at-risk one step further, design-build is a more straightforward approach due to the transfer of risk to one single entity, the design-builder. The design-builder assumes contractual responsibility and risk for both design (architecture and engineering) and construction and is thus motivated to ensure each component is well planned and executed.
The intensive collaboration between the design team and builder in the preconstruction phase results in far fewer changes, surprises and delays during construction. Additionally, it alleviates the management burden, risk and associated stress on the owner, Kearney says. In some cases, a design-builder can provide a completely turnkey restaurant for clients by managing the procurement and installation of all assets related to the operations of the facility, including furniture, signage and artwork, IT, operating systems, finishings and more.
"As a project manager that has participated in all methods, I find construction management at-risk and design-build the highest certainty of outcome for restaurant owners," Kearney says. "The overlap of the design and construction process condenses the overall project timeline from start to finish, and project planning, design and budgeting benefit from having the builder's input early on."
Ultimately, it is up to the operator to determine which method fits best with their project, for either long- or short-term benefit. And once a decision is made, projects can move forward with budget estimations and benchmarks also in line with project finishes such as flooring, wall coverings and other materials.
Design Finishes
Once a method and project budget outline has been created, understanding the life cycle of a product or material can help keep costs under control.
"Also as a franchisee of a restaurant system, the worst thing I want to hear from a franchisor is about remodeling," says Wilson. "We have very curable surfaces at CoreLife so ultimately, we don't have a lot of maintenance. Therefore, if we want to do a remodel, we can do it for the minimal amount of dollars because of how we built our locations to begin with."
Nicole Alexander, founder of Chicago-based interior design firm Siren Betty, says another way restaurant concepts can stay on track is to incorporate the interior design team early on in the process.
"Getting the interior design team involved early on helps so we can see what we're working with," Alexander says. "If it's a simple repair and replace build, we can salvage things before demolition begins, and that's always great. For example, one of our projects had a former tunnel in the building that was used during prohibition. So, we were able to turn that space into an area for shelving and integrate it into the design."
During the beginning stage of the process, Alexander and her team typically conduct a walk-through to determine what materials can be used from an existing space or incorporated into a new one.
"If we're working with a new build, we can get creative with storage areas and displays," Alexander says. "We once worked on two restaurants that were connected. One was a Mexican concept and the other was Chinese. In those two, we used pegboards and baskets as shelves and storage and as a colorful display that we could add to the design of the back bar. As for interior designers, bring them in early and then let them use materials that can act as dual elements to the space. We know how to get crafty when creating a space on a budget."
Overall, it comes down to whether what you need requires the good, better or best type of investment for operational and interior elements.
"Understand where you're going to make the most significant cost-savings impact," says Starr. "While eliminating or downgrading something may reduce the cost by hundreds, what you really want to do is reduce it by thousands."
Operators should start by assessing their risk tolerance with regard to budget fluctuations, according to Meg Kearney of Windover Construction. Her firm served as construction manager at Railstop restaurant in Boston. Image courtesy of Peter Vanderwarker Photography
Tips + Tricks
There are four things restaurant operators should consider when looking to either stay on track or reduce construction and build-out costs. In line with those four things, transparency should be the guiding factor, says Steve Starr, principal of Charlotte, N.C.-based StarrDesign. This means being transparent with the budget up front and evaluating budget numbers three to four times during the project.
"The biggest thing that we've seen that influences cost is sticking to a very defined process and having the restaurant owner/operators strongly engaged in that process from start to finish," Starr says. "Also, understanding the life cycle of a product or material and being clear about which items are a priority."
Before starting any project, Starr advises four steps owners or operators should take.
Establish key design and architectural relationships early on in the process. This will help keep numbers within reason and serves to establish long-term relationships with contractors for future projects.    
Focus on the entire project and not just the customer touchpoints.
Make sure you evaluate each operational and interior design element based on whether it requires a good, better or best project investment.
Pay attention to pricing during the beginning, middle and end of the design project phases. This will help to determine pricing fluctuations and will keep adjustments within reasonable expectations.
---
At Bancroft, pictured here, Windover Construction served as construction manager at-risk, a delivery style that incentivizes contractors to stay on time and on budget. Image courtesy of Peter Vanderwarker Photography