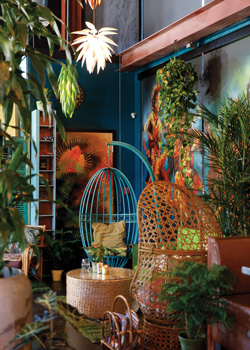 The fresh color palette and urban vibe inside Troop in Providence, R.I., evoke elements of '80s and '90s hip-hop. Images courtesy of Chip Reigel In an ideal scenario, restaurant construction would go smoothly. Everyone from the restaurant operator to the project designer to the general contractor would stay on the same page throughout the process with zero miscommunications, and the build-out would be on schedule and under budget.
While every project team strives to get as close to this as possible, unexpected challenges can pop up during construction that affect everyone's bottom line and the restaurant opening date.
In fact, sometimes construction even starts before the design is complete. "The pace of construction tends to be fast in the restaurant world," explains Meg Kearney, project manager at Windover Construction, Beverly, Mass. "Sometimes we're moving faster than design can keep up. If a design change comes up too far along the line, it could be harder to implement further on in construction."
Restaurant construction costs account for 36.5 percent to 72.6 percent of overall startup costs, according to a RestaurantOwner.com survey. And actual restaurant price tags range anywhere from $70,000 to $472,500 — with $200,000 as the median. This all adds up to operators needing to get the design right the first time.
Projects don't always go as planned, however. In the case of Silva's Fresh Eatery in Santa Ana, Calif., it was the first restaurant venture and first time building a restaurant from the ground up for owner Rick Silva. The project proved to be a steep learning curve.
Initially, Silva's budget for the build-out was an estimated $500,000, but working with a contractor and an architect who had never worked on a restaurant before tacked on additional time and went well beyond the project's initial budget — to the tune of $1.5 million.
Several design changes were necessary during the construction phase, including some issues with obtaining city permits, all of which pushed back the grand opening. "It was supposed to be built in six months, but it took a full year; it was double the time and triple the money," explains Silva.
Soon after Silva's opened in January 2018, his concept morphed from a daytime casual-dining spot with late-night Brazilian finger food to an overall upscale dining concept. While the upscale design was in line with Silva's vision, he wasn't prepared for the lukewarm reception.
"[It was] too complicated for people to grasp, and it didn't really take off," Silva says. "We had to stick with one concept for the demographic, which is casual, so that's all we do now. We stayed open late before but now no longer."
Additionally, Silva realized the upscale aesthetic may have intimidated locals from trying the new restaurant, so the design had to be toned down. "It was very high end and in line with what I wanted to do with the location; however, the demographic did not match," Silva says.
Some design updates, including wallpaper with a jungle-inspired plant life pattern and swapping in casual furniture, have made the restaurant more approachable to locals. In the end, Silva's total investment reached $1.8 million after the latest revamp. In hindsight, Silva puts it down to location — the restaurant is in a strip mall next door to a nail salon — and misjudging the area's demographic.
"We picked the wrong location for the concept we had in mind, and so we changed it," Silva says. But now he believes the restaurant is ready to take off. "It's still not profitable yet, but the amount that I'm spending monthly to keep the lights on has decreased from $90,000 to $35,000 as of January."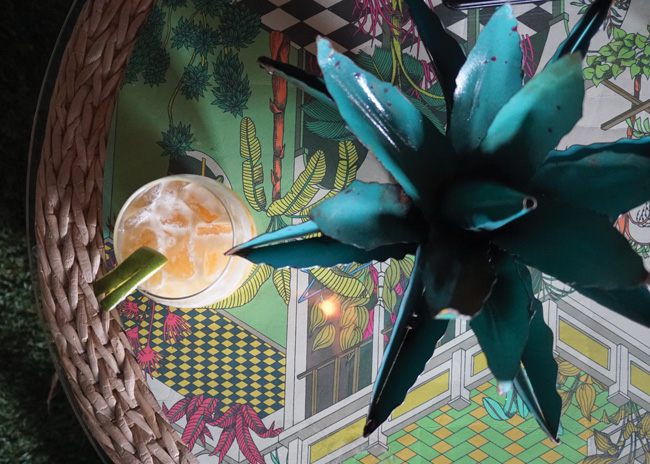 Hire an All-Star Team
As restaurants face increasing competition for foot traffic, social media share and profits, operators don't have much room for error. Avoid costly mistakes and design changes during restaurant construction by hiring the right team with the proper experience from the beginning.
"It takes experience to know how to plan for the time and budget required to see your project through, according to its design, and to not have eleventh-hour problems with funding impact the original ideas," says Kyla Coburn, owner of Kyla Coburn Designs, based in Providence, R.I. "In order to bring a project in on schedule and on budget, you must foresee most pieces, budget for the can of worms and religiously adhere to the budget allocations at every fork in the road."
It can be a challenge in the beginning to put the entire team together (the architect, designer, engineer, consultants on design/development, construction manager/general contractor), but, notes Erik Gardner, director of business development at Shawmut Design and Construction in Boston, it's important to get the conversation started right away on what the expectations are and what kind of budget the client has in mind. "Assemble the team as soon as you can to get as much expertise around the table as early as possible [in order] to have open and honest communication about what the budget goals are and [to ensure] the entire team is working toward that goal from the beginning as soon as possible," he says.
One way to take advantage of the opportunity to tap into the collective expertise of your entire team early in the process would be during site selection, which could provide insight into any potential costs of upgrading utilities. "Just because there was a restaurant in the space before, it may not meet client's expectations," Gardner says. "It means doing due diligence to understand what the real budget and goals are and to talk through what that means — and move through conceptual and schematic design and development — and always keeping that in mind as you're making decisions as a team."
It's easy to overlook getting the general contractor or construction manager involved early on, but their involvement can add value. Gardner points to a recent project in which his firm was brought on early enough to be part of the budget, design/development and demo phases. This allowed the construction firm to discuss budget and timeline goals with the team and to get into the space for an early demo phase, which then helped inform the design and development, kept the budget under control and eliminated potential surprises.
Build Strong Relationships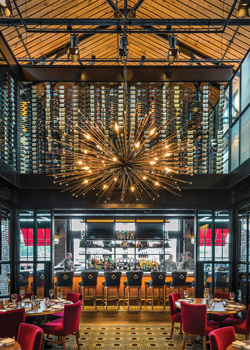 Numerous complicated design elements, including a custom cast-iron staircase, made Bancroft & Company in Peabody, Mass., a complicated project that required close coordination among project team members. Image courtesy of Peter VanderwarkerCarefully selecting team members as you enter into a project together is one part of the equation, and effectively building and maintaining a mutually beneficial relationship is vital. Since so much of the project takes place in the planning phase, it highlights the importance of strategic conversations surrounding budget, expectations and goals and ensures that everyone is in agreement along the way.
"Typically, construction is about 30 percent of the overall project duration, while the design/development, planning, preconstruction, etc., make up about 70 percent of the project," says Gardner. "When you have an experienced team around the table with everyone working toward those goals, 70 percent of the time when you get to construction, it makes it that much easier."
When you have team buy-in from the beginning of the project, you're also putting in place the key supporters working toward the same vision. "The more team buy-in you have, the more comfortable everyone is to come to the table and find a solution," says Kearney. "When you come up to an issue — whether you're choosing something that's the most economical for your budget, or if you've decided for your team that time is more important for your budget — when you have a team buy-in, you could choose the most economical solution or the fastest solution."
In Kearney's experience, this happens when the contractor shops around for subcontractors, checking their qualifications and introducing them to the operator to find out if they're right for the job. "They've bought into the goal of the client as well, and by establishing that trustworthy relationship, we could also bring them to client meetings. When we're at the same table together and we're not the in-between, we can get things done," says Kearney.
Meetings and Communication
Frequent communication is the key to success, especially when keeping track of the project timeline.
"My best experience in opening our stores is to have that weekly call and meeting," says Jennifer Van Gorder, director of operations, compliance and training for Diversity Food Brands, which has a restaurant portfolio that includes Sandella's Flatbread Café. Sandella's has 50 locations, primarily in airports, universities, and corporate/hospital settings, and licenses its brand to contract feeders. "Yes, there's always emails going back and forth, but I find communication every week is probably the biggest factor to our stores having a successful opening, on time and being prepared."
Constant contact helps create a mutual checklist. Without these frequent check-ins, Van Gorder, who collaborates on the store layouts' efficiency with the interior designer and contractor hired by the contract feeder, admits it's easy for things to slip through the cracks. "If we don't get to talk, we don't know if they checked it off," she says. "As you get close to opening, it's imperative. If the operator's on top of everything, it makes the opening training process much smoother."
In addition to maintaining open communication, define who is authorized to make what types of decisions in order to prevent confusion and keep progress moving along. "Establish up front whether an individual is able to make a construction change. Sometimes a CEO may be the only person who makes decisions. Some chefs and general managers are extremely involved, and some aren't at all," says Kearney.
When Kyla Coburn Designs signed on to design Troop, an elevated, hip-hop-inspired restaurant in Providence, R.I., working with five owners seemed daunting at first, but it turned out exceptionally well. "The team was made up of passionate specialists: a money guy, an innovative chef, a brewmaster, a marketing guru and a music expert," says Coburn. Because everyone's roles were defined and respected, meetings were productive and execution went off without a hitch.
With an aggressive 56-day time line and numerous and unique details including a gold leaf ceiling above the bar Eleven Madison Park's redesign required an intensive preconstruction and procurement process. Image courtesy of Shawmut Design and Construction
Make It Count
Value engineering from the design/development phase, including finding alternative ways to elevate the design with simpler or more cost-effective finishes, represents one way to mind the budget without sacrificing results.
Get everyone's constructive input and come to the best solution to prevent having to go back and engineer twice, which costs more. "Value engineer as you go so once it's drawn and in final form, knowing that it's on budget without having to pull something out, it's a morale booster for the team," says Gardner.
While restaurant construction includes many checklists, collaborations and approval processes, there comes a time when an operator should leave the rest up to the designer and contractor to complete the job. "Many designers work with their clients throughout the process, approving specific items and prices for each item. We find that this is a recipe for overruns on both the budget and timeline, as well as watered-down results," says Coburn. Not to mention, operators are plenty busy running their business to bother with fabric swatches or paint colors.
By putting in the time to get to know clients up front, Coburn gets a clear picture of their interior goals as well as their business goals. "We run table turn numbers with them, we have detailed questionnaires for all decision makers, we help define their business goals and their target market, we put words and visuals and the skeleton to the owner's ephemeral dreams and ideals of how the final result should be," Coburn says.  
After deciding on a flat-rate budget and timeline, Coburn has the creative control to manage the finances and execute the project. Of course, this approach requires a certain level of trust in the talents of the designer on the part of the client.
"To garner the love of your patrons and the attention of the press, you must hire a chef who designs a menu they are passionate about. The interior is no less important," Coburn says. "It's not getting them in the door; it's making them come back."
Stay in Touch
An inexperienced project team meant going over budget and an extended construction schedule for Silva's in Santa Ana, Calif. It was an expensive endeavor for owner Rick Silva, but he's righting the ship. Image courtesy of Gabriel TaylorKeeping the lines of communication open tends to lead to better restaurant project results. Is it ever possible to have too many meetings or conference calls? These restaurant experts share their experiences and what works best for them.
Meetings twice weekly or more: As the construction manager/general contractor, Shawmut Design and Construction is in charge of driving both budget and schedule goals on a current project, so the entire project team meets twice weekly. "Shorter, more frequent meetings have been effective," says Erik Gardner, director of business development.
Shawmut sets up their work week in the Monday meeting and then will do a brief 15- or 20-minute check-in on Thursday to stay on task. Breakout sessions on granular topics like mechanical or ductwork details only involve those who need to be involved, which respects everyone's time.
"If you collectively add up the minutes on Monday and Thursday meetings eight times per month, it's probably the same amount of time as one long meeting once a month, but these sessions are high energy, and the team has really liked it."
Biweekly or weekly conference calls and webinars: For one recently opened Sandella's unit, the team started off with biweekly calls for six months with updates on the timelines of construction and progress, then transitioned into weekly calls eight weeks before opening. "We had our weekly call with the construction end client and a separate weekly call with the operator for the store. Every week was aligned with our checklist, and everything was ready and training was ahead of schedule," says Jen Van Gorder of Diversity Food Brands.
Weekly in-person meetings: "We've always had our weekly meetings with everybody involved to identify concerns and action items to take the next step in anything open," says Meg Kearney of Windover Construction. This also allows them to closely monitor and report on the budget and bring in contractors to meetings who are uniquely qualified to sell or install certain products or materials to educate the team. "Meeting people face to face is more efficient; you get the best information and teams that trust each other."