New concept integrates retail, culinary.
RH Nashville, The Gallery at Green Hills opened July 2. RH Nashville (formerly Restoration Hardware) stated in a release that the concept continues its quest to revolutionize physical retailing by integrating a culinary offering by restaurateur Brendan Sodikoff, founder and president of RH Hospitality.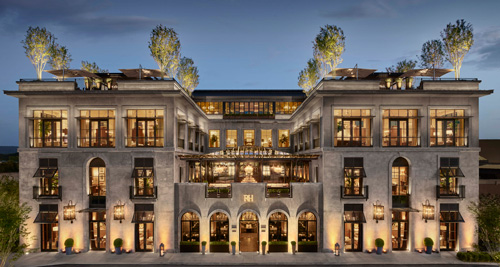 Sodikoff is also the founder, CEO and creative director of Hogsalt Hospitality, a Chicago-based restaurant group spanning 14 concepts and 15 locations. Hogsalt's portfolio includes Au Cheval, Bavette's, Gilt Bar, and Doughnut Vault in Chicago, as well as his first restaurant in New York – 4 Charles Prime Rib, a supper club in the West Village.
RH Chairman and CEO Gary Friedman said that "RH Nashville reflects our ongoing quest to revolutionize physical retailing by seamlessly integrating food, wine, art and design. We don't build retail stores. We build inspiring spaces that blur the lines between residential and retail, indoors and outdoors, home and hospitality – spaces that activate all of the senses, and cannot be replicated online."
The building spans four levels and 70,000 square feet (interior and exterior). It includes home furnishings in a gallery setting, in addition to retail spaces dedicated to RH's different furnishing concepts, for example a teen niche.
The site was designed in partnership with with design architect James Gillam of Backen, Gillam & Kroeger. Its billed as a contemporary, yet classically inspired structure.
Food and beverage spaces include the Wine Vault, a lounge space with banquette seating and iridescent gold, groin-vaulted ceilings; the adjoining RH Café, which offers a seasonal, ingredient-driven menu that guest can enjoy sitting beneath a glass atrium with massive crystal and iron chandelier and 12-foot central fountain.
A second Wine Vault, as well as the Barista Bar – with its craft espresso and house-made pastries – adjoin the far side of RH Café. From there, arched passageways lead visitors to another arrangement of rooms with RH Interiors collections.
An integrated workspace resides on level two for designers, architects and clients; and a large exhibition space houses the third level, along with RH Baby & Child and RH TEEN galleries.