Restaurants that can transition from daytime to night can bring in revenue from multiple dayparts.
Chris Michero Creative Director Lead Interior Designer of The Curtain
American diners are eating out more than ever. By 2014, for the first time, the share of food dollars spent on restaurant dining tipped over the 50 percent mark, according to a report released in January by market research company Nielsen, based in Chicago.
Restaurants have multiple opportunities to attract customers: During the day, for breakfast or lunch and then again for dinner, when the restaurant has transitioned for the evening, often with a different ambience altogether.
Chris Michero is the creative director of Duncan Miller Ullman Design in Dallas and he has worked on several restaurants, helping them transition seamlessly from daytime service to evening operations. Most recently he worked on the Lido restaurant in The Curtain Hotel in London, England. Here he shares his expertise with rd+d:
Why would an operator want both a daytime and a nighttime feel to a restaurant?
CM: It gives the guest a reason to come back. If they've only experienced lunch then evening drinks or dinner could feel like a whole new adventure. Pair that with separate menu offerings and it's a win-win for an entirely different, memorable experience.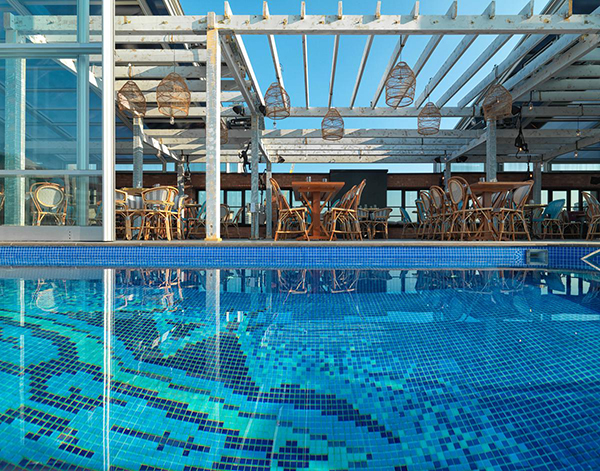 The Curtain Hotel's Lido deck during the day.
What is key takeaway when designing for daytime?
CM: Typically, daytime guests need a little less attention — save weekends or fun brunches — and are on a schedule, so just having a cheerful space to backdrop the occasion is primary.
Attention to lighting in the daytime is just as important as the night for a very simple reason. The days are, of course, brighter and therefore there's going to be a wash of light coming in from perimeter windows. I always try to balance the natural light/interior light ratio with architectural lighting. There's nothing I dislike more than a restaurant that can't find that balance. When you have long shadows cast across the floor from the window light it gives a sense that it's closing time, or it isn't open at all, and it can affect the guest's mood or memory of the place, even if it's only on a subconscious level.
The Curtain Hotel's Lido deck at night.
How do you change that for the evening?
CM: During the evening everything should be more impactful because the guest's state of mind is usually more relaxed or adventurous. Senses are heightened, so features or important elements should be highlighted, which during the day might be a bit obscure. This gives the same space two looks that can simply be changed with lighting.
You have more control in the evening to direct the viewpoints when you're not battling sunrays — it's a blank, dark canvas. During the night-life hours of operation, there's more excitement in the air and guests are more open. People tend to carry themselves differently and an environment that can embellish that sense of excitement can transfer its energy into the guest, which turns into a memorable experience.
Can any of these changes be automated?
CM: The AV products available now have taken over manual operation in regard to lighting and sound. It's all about the presets — where everything will automatically dim, brighten, swivel, or boom in all the right places and at all the right times — if you can afford it.
How do you select furniture and soft furnishings that display equally well during the day and the evening?
CM: That is project specific, but if you select an upholstery color palette that has layers or varying saturation levels and textures you'll be good. This doesn't mean it needs to be a collection of different colors either. It can be different shades of white or a grouping of only warm colors that coordinate. Natural light brings out the most brilliant version of color hues, but ambient lighting can alter it drastically so ensure you've checked your fabrics in different light levels so nothing shocks you.
If a restaurant has a bar, do you put more emphasis on that at night? How?
CM: Yes, that's a feature that should be highlighted because it's a desired amenity and its own stream of revenue. Whether its liquor or accessory shelves you light with front lighting, or back-dropped with lit translucent stone, or thin profile pendants, or just architectural lighting to accentuate a nice zinc bar top, these are all simple ways to pull attention to the bar.