Project Team
Design: CORE
General Contractor: Infinity Building Services
MEP: Karnik Gregorian Engineering, Inc.
Graphics: Seth Design Group
Growing chains usually seek to build on previous successes — in both menu and in design. Swing's Coffee Roasters prefers each location be as unique as the neighborhood in which it resides.
"Swing's owner Mark Warmuth likes his cafes to reflect the neighborhood around them, rather than having just one look," says Allison Cooke, partner at CORE architecture + design, inc. "[For this location] we took design inspiration from the decorative Beaux-Arts building nearby but, more importantly, we were able to maximize the customer experience by optimizing barista workflow and filling the space with hidden function and storage."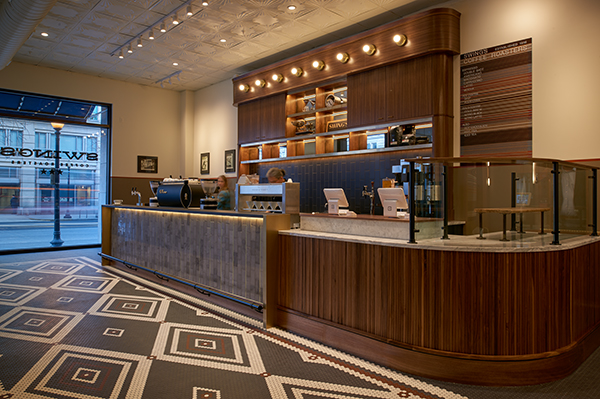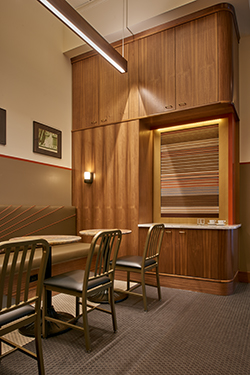 As customers enter Swing's from the courtyard of the Metropolitan Square Building, the 25-foot coffee counter — with its point of sale, pastry display, and pour over and espresso stations — greets them. The back bar, made of walnut and adorned with antique glass and brushed brass accents, is reminiscent of an old soda fountain shop. It also serves double duty, providing both open and concealed storage, as well as encasing unsightly equipment such as dishwashing and coffee warmers.
"We considered what customers see (and don't want to see) when they enter Swing's, as well as what baristas need to serve guests quickly and efficiently," said Hilary Miners, project designer for CORE. "Throughout the project, we were mindful of creating a beautiful customer experience while responding to the functional needs of the barista."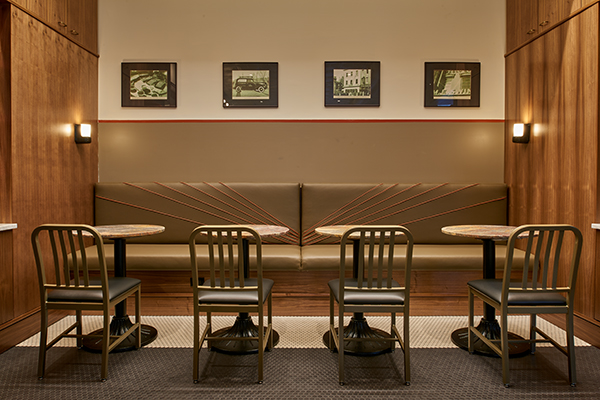 The location's color palette includes rich walnut, warm taupe browns and cranberry red — a nod to the chain's logo. Cranberry-red accents appear in the millwork displays and the banquette details, as well as in a single painted pinstripe that separates the taupe band of paint color from the white above.
Most countertops use a solid-surface product resembling white marble. However, in front of the espresso stations, black quartz countertops are employed at bar height encased in a brushed brass metal accent. Polished marble fronts the counter beneath and a metal foot rail provides a standing ledge for guests to lean on.
The rest of the coffee bar's front features vertical walnut tambour slats. This wood application, traditionally found in early 20th-century roll-top desks, provides both a hint of nostalgia and subtle wayfinding as guests move around the counter.
Swing's has two seating areas: a bar-height counter along facing the courtyard storefront and a banquette with loose tables. By not placing seating in front of the windows, passersby get an uninterrupted view into the shop. Two large millwork pieces designed to match the back bar flank the seating area and provide additional closed storage, open display shelving and a decorative bulletin board.