Elm & Good
Located in the Kimpton Pittman Hotel, this modern American tavern is inspired by no-fuss farmhouse fare. The 5,525-square-foot restaurant evokes Texas charm and embodies the rich history of the Deep Ellum neighborhood. The property occupies the Knights of Pythias Temple, which dates to 1916, where it served as the first commercial building built for and by African Americans. The name pays homage to the trailblazing African American architect and son-in-law of Booker T. Washington, William Sidney Pittman. Architects Perkins+Will worked with designers at Busta Studio and the Dallas Historical Society to restore and preserve the landmark to its original essence while coupling it with a new contemporary tower. The renovated structure offers a juxtaposition of old and new, offering meticulously restored elements, such as the original loading dock that now serves as an entrance. White walls with dark beams and columns pair with high ceilings.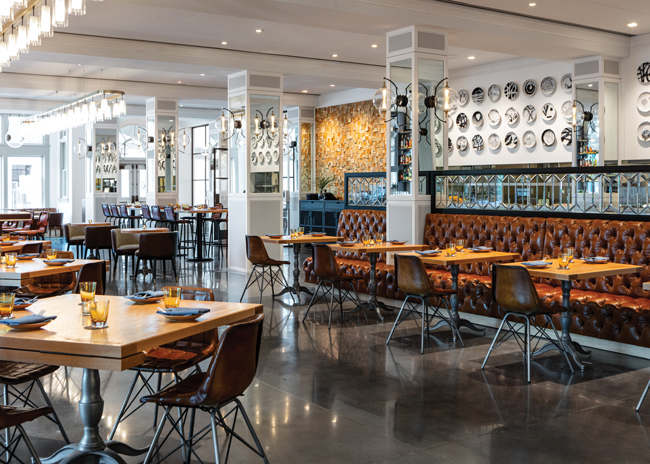 Image courtesy of Chris Molina
Georgie by Curtis Stone
A partnership between local restaurateur Stephan Corseau and celebrity chef Curtis Stone, this modern steakhouse combines the bright and airy design of Stone's Los Angeles area restaurants with the rich colors and textures of a classic steakhouse. Designed by New York-based GRT Architects, the restaurant's open layout features a semi-exposed kitchen and the indoor/outdoor dining room is dominated by bright orange-red velvet upholstered banquettes brightened by white marble flooring, natural wood and gold accents. Attached to the steakhouse is a butcher shop. The shop is visible from the dining room so guests can see the butchers at work, but it also has its own separate entrance and service window off the charming and walkable alley outside. Here, customers can buy handcrafted charcuterie, raw meat and sandwiches for takeout. The fully outside dining tables are enclosed by mahogany planter boxes and spill into the indoor dining room via open glass doors and windows.
Ellie's Restaurant & Lounge
Overlooking the Texas Sculpture Walk, Ellie's Restaurant & Lounge is named after developer Craig Hall's late mother and fuses her dedication to art and authenticity into an elevated dining experience. Designed by award-winning interior design firm Bentel & Bentel, Ellie's seats 152 guests and features warm walnut tones contrasted with cool marble tabletops and accents. The dining room is a literal art gallery, with seven commissioned pieces. The kitchen is helmed by Executive Chef Eric Dreyer, who brings over 20 years of experience working at culinary destinations both locally and across the country, Ellie's culinary team partners with producers who share the restaurant's commitment to locally sourced, sustainable ingredients.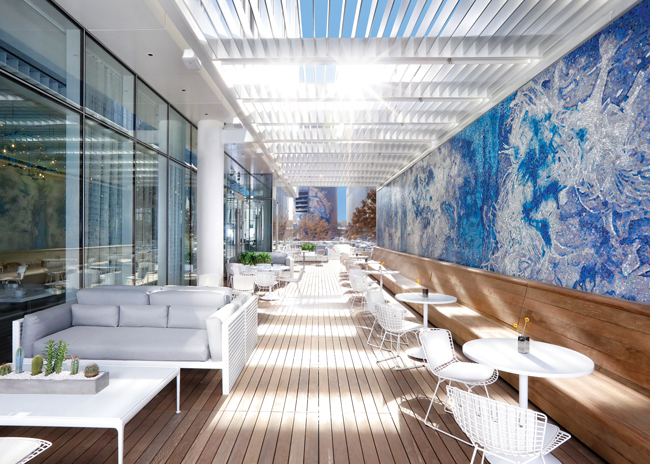 Image courtesy of e3 Photography
AvoEatery
This 2,500-square-foot, 90-seat eatery with a patio that seats 30 opened in February and was developed in partnership with Avocados from Mexico by Sterling-Rice Group. The design of the restaurant was inspired by the magic of Michoacán, Mexico, which is where all Avocados From Mexico (AFM) brand avocados are grown, and was intended to give diners the feeling of being inside an avocado grove. Diners entering the eatery are welcomed by a series of wood beams stretching through the center of the space in a nod to the branches of an avocado tree. The beams extend over a community table and are decorated with a series of suspended light pendants that look like avocado harvesters. The avocado theme is also carried over to the decorative green chairs with backs that create a visual sense of large tree leaves as well as into the artwork, with pops of more avocado green. Outside, a large green wall provides a sense of sanctuary for the patio, where there is also an avocado swing for guests to use to relax and take pictures.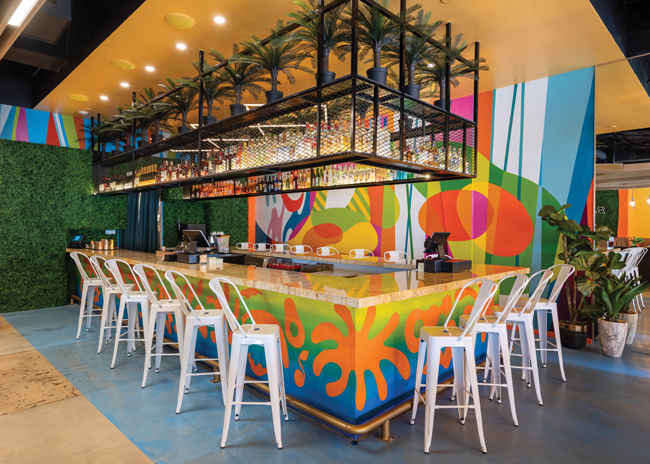 Image courtesy of Kristian Bottini/270B