Product Guide
November 10, 2015
Part art, part science, menu boards and signage serve as important communication tools in a restaurant — QSR and fast-casual operations, in particular.
Exterior signage helps to draw guests in, and, once inside or at the drive-thru, menu boards and promotional signage play multiple roles: They spell out the menu offerings and convey basic ingredient information; through smart menu engineering, they can help drive up check averages; they contribute to a brand's graphic identity; and they can add extra merchandising sizzle for special LTOs and deals.
From the materials used to the fonts, photos and graphics they carry, carefully consider and craft every aspect of these tools to align with the total brand experience. At the same time,
the signage and menu boards must be clear and easy to read to keep the order-placement line moving quickly.
Common mistakes to avoid when purchasing and installing menu boards, according to Adam Limbach, vice president of brand communications at Chute Gerdeman, Columbus, Ohio, include:
Failing to consider placement. Customers should be able to read signage without having to lift their heads outside of a normal "cone of vision."

Making it hard to read by cramming too much in, not considering flow and/or choosing a font that's tough for many guests to read.

Selecting an option that's not flexible enough, that doesn't accommodate multiple dayparts well or that is too complicated for franchisees to operate.Technology, of course, continues to change the game. The flexibility and enhanced customer experiences they can provide make digital menu boards an exciting option. But restaurants should carefully research their options before going digital, Limbach suggests.
Integrated Drive-Thru Solutions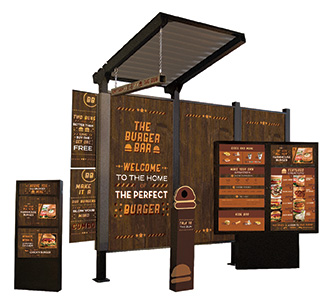 Studies have measured that as much as 60 percent of the average QSR's business could come from the drive-thru, so why not extend the brand experience outdoors? Maximize marketing real estate, in a small footprint, with cost-effective VGS integrated drive-thru solutions. Changeable brand graphics, digital menu boards, add-on messaging components and unique speaker posts allow operators to increase trial instance, build average checks and secure repeat business while creating an engaging customer experience. www.menuboardexperts.com
Bright, Engaging LED Lightboxes
EvenGlow LED Lightboxes from Rose Displays help generate visual impact in bright, evenly lit LED frames that are available in one- and two-sided configurations. The one-sided configuration features springless snap rails for easy front graphic loading. This allows restaurants to integrate the displays as surface-mount, recessed or side-by-side mounted configurations. Cables provide flexible hanging options for the two-sided configuration. The lifespan is 50,000 hours of continuous service, and color temperature options include 6500K cool white and 4100K warm white. www.rosedisplays.com
Soft, Fabric-Based Signage
Rose Displays' FabriWare Soft Signware creates a softer graphic aesthetic, enhancing the brand experience and dining ambiance. Lightweight one- or two-sided designs are available framed or frameless and can adapt to a variety of display configurations, including freestanding, wall mount or ceiling hung. Signs are scalable to any size. Direct-to-fabric printed graphics attach to the precision-made frame. www.rosedisplays.com
Smart, Digital Signage
With a slim bezel at only 4.9mm, the 49-inch BDL4970EL commercial display from Philips Signage Solutions is suitable for QSR and other digital menu board applications. Mountable in portrait and landscape orientations, the display contains a slot for a media player, such as an open pluggable specification module, and contains 12GB of internal storage, allowing for direct media playback. It also includes a built-in AC outlet. Operators can also stream content via the unit's SmartBrowser functionality or manage content via the integrated content management system CMS). www.pcommercialsolutions.com
Digital, Drive-Thru Solutions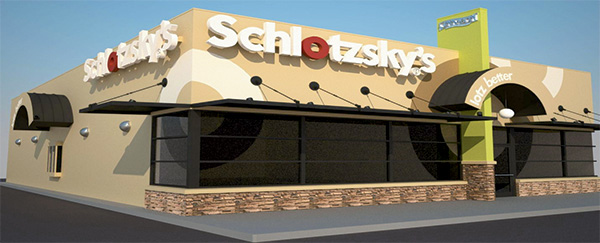 UniStructures Inc. designs, manufactures and installs customized interior and exterior digital signage solutions, building awnings and canopies, and a complete line of drive-thru equipment for QSR and full-service restaurants. The custom-designed "H-Bar" grid system, unique Translite hold-down system and interlocking, weatherproof extrusions combine to create durable, high-quality static menu boards. For interior or exterior, freestanding, canopy or wall-mounted boards, the systems offer multiple lighting options, dayparting, and custom wings and toppers. www.unistructures.com