Product Guide
November 10, 2015
Restrooms may occupy a small percentage of floor space, but their ability to impact the total guest experience and leave a lasting impression — good or bad — is powerful. Smart operators and designers approach restroom design and layout with that in mind and give restrooms the respect they deserve, from the standpoint of both form and function.
Function, of course, is critical and starts with meeting code requirements for the number of fixtures needed based on occupancy and handicap accessibility, dictated by the Americans with Disabilities Act. Beyond those non-negotiable basics, it's all about creating restrooms that are:
Easily accessible but discretely located.

Properly sized to handle
anticipated volume.

Easy to maintain and clean.

Thoughtfully designed and equipped for the guest demographic, whether families with kids, professional singles or seniors.

Aesthetically pleasing and consistent with the brand's overall look and feel.
While it can be tempting to create restrooms that make a design statement, professionals caution that practicality and performance should take precedence over cool.
Tanya Spaulding, principal at Shea, a Minneapolis-based design firm, maintains that durability and cleanliness should be the top priorities when selecting restroom products and finishes. She often opts for primarily neutral colors and simple, quality finishes, such as tile on walls, that convey a timeless sense of cleanliness. "If you want to incorporate character or statement aspects, do it in areas that are easy to change out and easy to maintain, such as graphics or artwork," she suggests.
Spaulding notes that product innovations over the past few years have made creating smartly designed restrooms easier.
---
Products
Graffiti-Resistant Restroom Partitions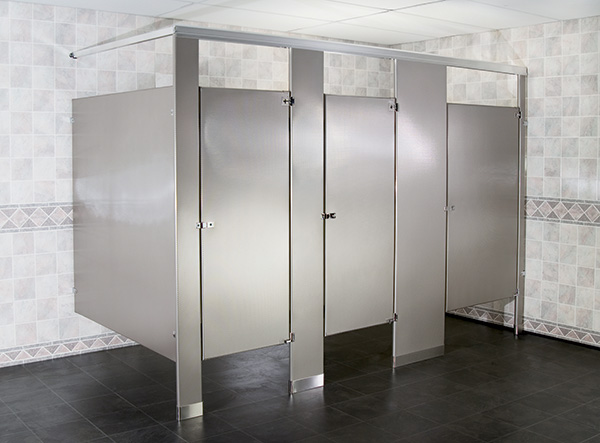 Metpar's Dur-A-Tex line of restroom partitions features powder-coated, textured steel with a graffiti-resistant, clear-coat finish. Metpar also offers other material options for its restroom partitions, including stainless steel, plastic laminate, phenolic and solid plastic. Designers and operators can choose ceiling- and floor-mounted partitions, and all materials are available with no-sight options for maximum privacy. www.metpar.com
Germ-Killing Hand Dryer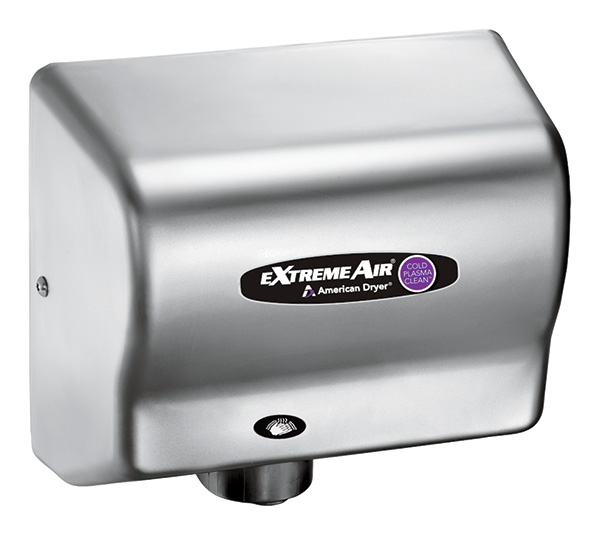 American Dryer's line of hand dryers now includes ExtremeAir with Cold Plasma Clean (CPC) technology. CPC technology has the power to kill germs, including E. coli, influenza, staph, MRSA, C. diff and salmonella, safely and without the use of chemicals. Features include adjustable sound and speed and universal voltage. The ExtremeAir is Green Spec listed and will help qualify for LEED credits, according to the manufacturer. www.americandryer.com
PAT Basin, Tap Dryer Technology
Neo-Metro's soy-based, solid surface PAT basin features the Dyson Airblade Tap faucet and hand dryer. Benefits of this solution include less environmental impact, hands-free hygienic benefits, and lower operational costs and maintenance than traditional basin/faucet combinations. The complete package includes faucet, hand dryer, basin, trap cover and sink carrier arm system. It meets ADA codes and can withstand impact of 1,000 pounds. HEPA filtration removes 99.9 percent of bacteria from the air used to dry hands. www.neo-metro.com
Electronic Sensor Faucets
ChekPoint above-deck electronic sensor faucets from T&S Brass feature an above-deck temperature control with optional side control lever. Three base models come with a factory-installed or retrofit hydrogenerator and 4- or 8-inch deckplates. Other options include programmable auto time-out, water shut-off delay and auto-flush functions; point-of-use temperature control mixing handle with color-coded index; and removable temperature mixing handle. www.tsbrass.com
Modern, Design-Forward Faucet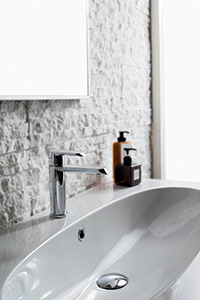 The Phase faucet features a classic handle that is redefined with a slim and flat shape. This contemporary faucet comes with a water-saving aerator to reduce flow from 2.2 to 1.5 gallons per minute. Manufactured from brass, it's available in polished chrome, brushed nickel, polished nickel and olive bronze finishes. www.graff-faucets.com