Product Guide
November 15, 2016
Walls Do Talk
As the largest exposed surface area in a restaurant, walls play a critical role in overall design and brand storytelling. Sure, paint is simple, versatile and affordable, but designers and operators are increasingly turning to the fast-growing world of high-performance wall covering options for additional design pizzazz.
Surfacing products such as stone veneers, brushed metals, reclaimed wood planks, large-format tiles, and richly colored and textured vinyl are turning walls into big design features. And the rise of digitally customized wallcoverings is opening up new possibilities for creating brand-supporting designs and images that are unique, affordable and quick to produce.
As with any material destined for high-abuse restaurant use, however, choosing wallcovering products requires a deeper dive than looks alone. After all, these are surfaces that will routinely be bumped and bruised by tables, chairs and tray jacks. Guests and staff will inadvertently nick them, and spills, food, grease and fingerprints — and the regular cleaning required to remove them — will inevitably take a toll. As such, it's critical, no matter what type of wallcovering you choose, to select commercial-grade finishes and materials and to think strategically about placement of products or finishes that may be more delicate.
And, as in virtually every product category, sustainability and "greenness" are increasingly important. The
Wallcoverings Association suggests that NSF/ANSI 342: Sustainability Assessment for Wallcovering Products as the standard by which to evaluate and certify the sustainability of wallcovering products across their entire life cycle. It covers materials such as textiles, vinyl, alternative polymer (or vinyl- or alternative polymer-coated), paper and other natural fiber products.
Point values are assigned to prerequisite requirements and elective criteria in a number of categories at both the manufacturer and distributor levels, covering attributes ranging from raw material inputs, waste minimization, and indoor air quality and recyclability. If you're looking for wallcovering product that not only looks great but is environmentally friendly, it's a great place to start.
---
Products
New Metal Paneling Skins
Pure + FreeForm's new Signature Series includes a range of colors and textures that can be applied to the company's interior and exterior metal wall panel and ceiling systems. Designed by Founder Will Pilkington and Creative Director Geoffrey Hahn, many of the versatile finishes were inspired by the duo's interest in reinterpreting other materials through metal. Each of the finishes is ideal for evoking a contextual experience in restaurant or hospitality settings. www.purefreeform.com
Expanded Ornamental Surfaces
Responding to requests for additional Ornamental Surfaces collection choices, Architectural Systems has introduced a range of new patterns that allow for maximum design impact. They include embellished simulated leathers, animal skins, hammered and reflective metals in all four collections: Sublime, Retro, Deco and Glam (shown), which can be used for feature walls, ceilings, furniture and visual display elements. www.archsystems.com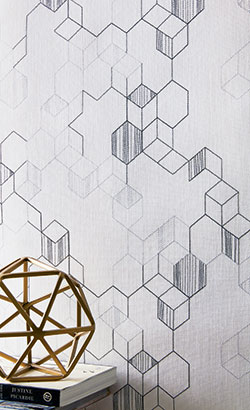 New Deco Fabric Designs
Carnegie has unveiled its new line, Modern Deco. Three new Xorel designs channel the opulence and glamour of the namesake famed design era, combining cubist geometry with softly defined linearity. Deco Embroider (shown) comes in six colorways and is appropriate for wrapped panels and direct glue wallcovering as well as upholstery. Spire and Luxe are dimensional planes that evoke elegance and structure. Both are sleek multicolor weaves that offer beauty and functionality. www.carnegiefabrics.com
Art for the Walls
Versa's new Aura responds to our love of weathered, aged, hand-painted and handcrafted materials. Layered organic and irregular brushstrokes emphasize its artisanal qualities, projecting a feeling that's comfortable yet classic and polished. Eight colorways include antiqued earth tones, weathered metallic and brights. Made of low-VOC, 20-ounce, Type II vinyl, Aura is certified to NSF 342. www.versawallcovering.com
Thin Stone Panels
Nemo Tile's new 1.2 Think Thin line is composed of natural stone panels cut at a delicate ½-inch thickness, making them lighter and less expensive than traditional stone slabs — thanks in part to significantly lower shipping costs. They can be applied to any surface with proper substrate and setting material, making the design impact of natural stone attainable for any concept. www.nemotile.com
Bold, Contemporary Laminates
ATI Decorative Laminates has added eight new patterns to its MirroFlex Structures collection of decorative, deeply textured panels. All feature the BIO (Built In Overlap), a unique seam system that makes installation easy and creates less-visible seams. Finishes mimic wood grain, patinas and metals. All can be formed in a 4-by-8-foot or a 4-by-10-foot size, and hundreds of designs and color combinations are available. www.atilaminates.com
Lightweight Stone Veneers
Quarto Stone Veneers from Architectural Systems incorporate proprietary technology to form natural slate and quartzite stone into thin layers with a fiberglass back in a translucent or opaque construction. This eco-friendly, lightweight and waterproof surfacing material can illuminate any new or refreshed space, interior or exterior. www.archsystems.com