Product Guide
November 15, 2016
Finding ways to bring more of the outdoors in is among the biggest restaurant interior design trends today. To that end, designers and architects are tapping skylights, glass-paneled garage doors, retractable walls and roofs, and other products and strategies to maximize natural light, views and, where possible, physical access to outdoor spaces.
Manufacturers are responding, providing a number of emerging and improved tools and technologies that make it easier to incorporate natural light and outdoor views in restaurant buildouts. From an aesthetic standpoint, the results can be dramatic, but from a "daylighting" perspective — wherein natural light replaces or minimizes the need for electric light sources during the day — the trend holds significant energy-saving benefits as well.
As with any window and door selection for restaurants — and even more-so with larger aperture products — performance and design must walk hand-in-hand. The more access to sunlight and the outdoor elements, the greater the need for specialized products and installations that allow for efficient, adaptable management of indoor air quality and guest comfort.
---
Products
Trackless Retractable Enclosures
Roll-A-Cover's custom trackless retractable enclosures enable operators to maximize revenues and customer satisfaction by providing a quick and easy way to enclose outdoor dining spaces when inclement weather hits. www.rollacover.com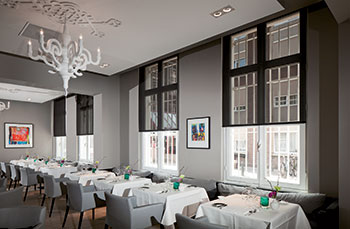 Versatile Roller Shades
The RB 500 Roller Shade system from Hunter Douglas is easy to install, durable and attractive. Versatility is a key feature, with components to support motorized, chain- and crank-driven mechanisms. Available in pearl white, black and chrome, the RB 500 offers the ability to create a monochromatic look by matching roller shade fabric to the color of the operating system. It can accommodate fabrics made from different materials, such as recycled plastics or metalized and high-performance finishes. www.hunterdouglasarchitectural.com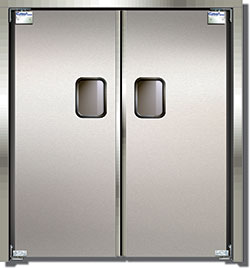 Swinging Doors
Service-Pro rigid swinging doors from Curtron Products provide an ideal barrier between customers and kitchens, stockrooms and coolers. They fit doorways up to 8 feet wide and come in single-panel or bi-parting double-panel configurations. Construction ranges from lightweight aluminum and ABS plastic to heavy-duty wood core and insulated designs. Available finishes include aluminum, stainless steel and laminates, with optional kickplates and impact plates.
www.curtonproducts.com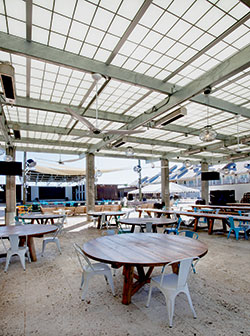 Translucent Panel Canopies
Guardian 275 translucent panel canopies from Major Industries provide soft, diffused natural light while protecting customers from the elements. Eliminate uncomfortable glare and hot spots, and bring a unique design element into your space. www.majorskylights.com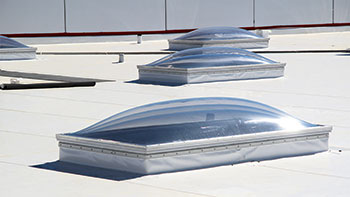 Rooftop Daylighting Solution
Duro-Light skylights from Duro-Last bring more natural light to your space. Offering thick, high-density lenses, the skylights use two systems to prevent water penetration: 1. advanced sealing through a robust tape and glazing application and 2. a unique, high-performance weather seal that provides air and water infiltration resistance and reduced condensation. www.duro-last.com