Product Guide
November 15, 2016
Dining al fresco is more popular than ever, and restaurant owners are increasingly challenged to create outdoor spaces that are comfortable, aesthetically pleasing and brand appropriate. Here are some considerations and suggestions to keep in mind when designing yours.
To maintain and protect brand image, outdoor dining spaces must be carefully planned, designed and operated. The experience outside should be on a similar level as the experience inside.
Use special design elements, such as fire and/or water features, canopies, umbrellas, plantings and custom lighting to enhance the outdoor dining environment.
Outdoor dining requires constant vigilance with maintenance and cleanliness as well as quick and dynamic response to environmental changes.
Outdoor spaces must be easily accessed and efficiently served. Is there a service entrance to the exterior so employees and patrons aren't crossing paths with food and beverages? Are the restrooms located with good access to the outdoor space? Does it make sense for the outdoor space to be able to function for private parties? Does it need its own POS and server station?
Size and design outdoor dining areas with the capabilities of the kitchen, bar and service staff in mind.
Follow the building code to determine appropriate seat counts per square foot.
ADA considerations are important: All patrons should be able to enjoy the outdoor dining space equally.
Minimize energy consumption and maximize guest comfort with natural daylight, LED lighting in the evening, clean-burning natural gas or electric heaters, and passive cooling techniques such as shading and controlled air circulation.
Avoid chemical pest-control sprays in outdoor dining areas. Instead, try bug lights, passive and electronic traps, screens, and lures to keep environments bug free. When selecting plantings for patio spaces, keep flying pests in mind and avoid flowering and leaf-dropping varieties.
Always select outdoor furnishings based on durability and weather resistance.
---
Products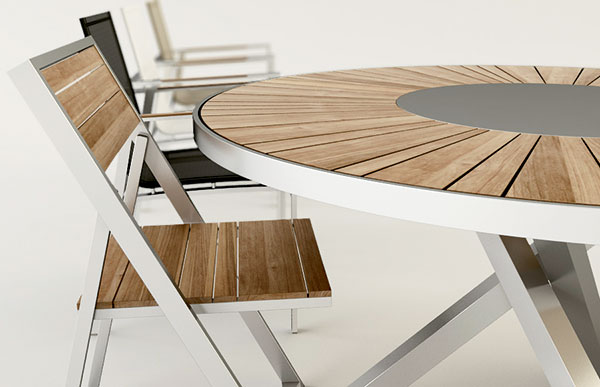 Al Fresco Round Dining Table
Featuring a mix of thick and thin slabs of teak that culminate in the stainless steel center, the Huron Round Dining Table from Blue Leaf Hospitality comfortably seats six and is well-suited to any al fresco dining setting.
www.blueleafmiami.com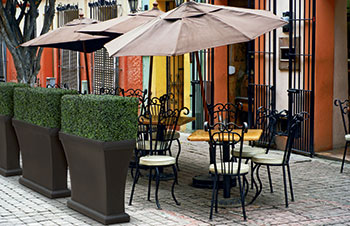 Weather-Resistant Planters
The Bordeaux offers style and durability in a high-quality commercial-grade product. The molded polyethylene, 32-inch-high planter's trough design has a narrow footprint, making it the ideal choice for privacy dividers or barriers for outdoor patios. Commercial-grade thickness provides added strength, and the textured finish increases durability and weather resistance. Also available in 28- and 40-inch heights. www.novobydesign.com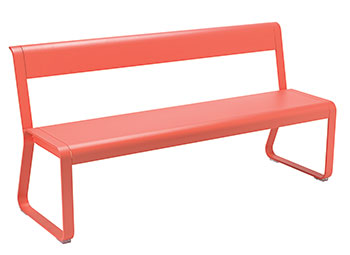 Contemporary Outdoor Bench
The Bellevie Bench with backrest from Fermob is light and ultra-stable. Designed to slide underneath the Bellevie dining table, the aluminum bench is available in more than 20 frame colors. The bench's soft curves and contemporary design fits any outdoor dining space. It was designed in France by Pagnon & Pelhaitre. www.fermobusa.com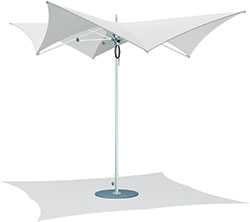 Elegant, Marine-Grade Umbrella
An extension of TUUCI's flagship Ocean Master parasol collection, the Manta's sweeping lines evoke an image of effortless grace, strength and beauty. Features include an "auto-loc-lift" marine pulley lift system, reinforced pocket construction, a titanium hub, a triton aluminum finial and numerous finish options. Four sizes are available: 6.5, 7.5, 8.5 and 9.5 square feet. TUUCI marine-grade products are developed with 100 percent replaceable parts. www.tuuci.com
Heavy-Duty Dog Leash Hitch
The new, U.S.-made Doghook is an attractive, easy-to-install dog leash hitch perfect for dog-friendly restaurants, cafes, coffee shops, ice cream shops — any place where dogs are commonly present. The strong, stainless steel hook plates can be mounted to almost any solid vertical surface in minutes and are available in three models. They come with installation hardware, a money-back guarantee and a five-year replacement warranty. www.doghook.com
Distinctive Outdoor Pendant
Handcrafted to order by skilled Vermont artisans, the Divergence Outdoor Living Pendant from Hubbardton Forge creates a focal point for an outdoor space. Use of either frosted globe or Edison tube bulbs provides distinctly different looks, shifting the aesthetic from contemporary toward industrial. Available in choice of coastal outdoor finish and includes adjustable stem and canopy kit. www.hubbardtonforge.com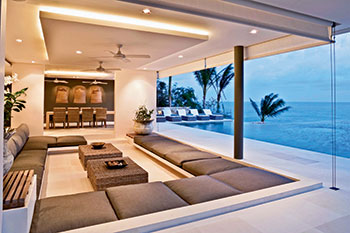 Game-Changing LED Lighting
JESCO's new Infina Outdoor Hardwired lighting is electrician wired and controlled by a remote switch for myriad outdoor applications. The LED system operates directly from ordinary 120-line voltage and is endlessly adaptable for outdoor applications. Constructed from durable high-temperature, flexible, optically clear thermoplastic polyurethane (TPU), the lights are available in 2700K, 3000K and 4000K color temperature choices. www.jescolighting.com
Silent, Dual-Bulb Bug Light
Curtron Products has added the Pest Pro 150 to its line of bug lights. This dual-bulb model covers up to 1,800 square feet, and its wall sconce design is available in four finishes. Silent operation makes it ideal for restaurant patio applications. Flying pests are attracted to the UV light and are trapped within the unit on a glue board, which is easily removed and replaced. The unit plugs in to any standard wall outlet. www.curtronproducts.com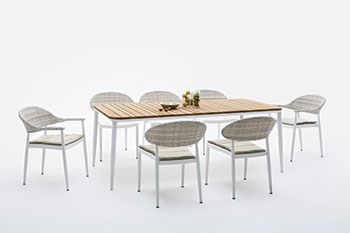 Outdoor Seating Options
The Tosca Collection by Mindo USA features visually interesting outdoor seating options as comfortable in the dining area as they are in the lounge area. The chairs and loveseat feature a beautiful woven wicker or fabric strap back with a cushioned seat in Mindo Sunbrella fabric or COM on an aluminum frame that is available in eight colors.
A teak dining table completes the collection. www.mindo-usa.com