Product Guide
November 15, 2016
To Brian Orter, who established his New York-based lighting design firm BOLD in 2008, great restaurant design depends on successful integration of architecture, interior design and lighting, with lighting ultimately sparking the personality of a space. We tapped him for insights on new product trends and for a few pointers on getting lighting right.
Brian Orter
When should lighting designers be brought in to the collaborative process for restaurant design?
BO: We like to come in at the end of concept design or the beginning of schematic design. That way, we can start to help tell the story and shape some of the architectural elements so that we can get the lighting where we need it. Lighting can't just be applied; it has to be built from within, coming from the cabinetry, from under the seats, from table lamps built in behind the banquettes, etc. We often get called in too late, and that makes lighting more difficult. If they've already done light-colored flooring or tabletops, for instance, it's much harder to tell a different story and create a moody, intimate feeling.
What new products or trends are shaping the category?
BO: Everyone's shifting to LEDs, for better or worse. It's tough to light a restaurant exclusively with LEDs because it's hard to get warm, amber light out of them — the kind of light that people have historically wanted in restaurants. Interestingly, what's happening now is that people are starting to look at luxury as a little brighter and are more accepting of slightly cooler, brighter environments. But LED technology is improving quickly. For instance, one of the most exciting new things we're seeing is warm-dim LEDs. They shift in color as they're dimmed versus simply getting less bright. That's how incandescent lamps and even candles work, but LEDs can now do it electronically.
What's trending in materials?
BO: There's a lot of brass coming back — not shiny brass but brushed, mottled or hammered brass — and other warm metals, too, versus the industrial aluminum that's been so big. We're also seeing innovations in glass. Some companies are now removing iron, which causes bulbs to look green, and creating beautiful, completely clear glass fixtures.
What's one big lighting misstep you see made in restaurants?
BO: Too many downlights! They're kind of a necessary evil, but they have to be used very strategically. A lot of people who don't use a lighting designer or who are new to lighting just provide general light via downlights. Those should really be the last tool in your arsenal.
Any other tips for getting lighting right?
BO: For architectural lighting, make sure you can use accessories to change them even a little bit. That might mean color lenses, diffusing lenses, glare control, etc. For decorative lights, think about two locations for fixtures. What is it going to look like when you're sitting down and when you're standing up? Where is the source of light going to hit? Will it create a glow on your face, or a sparkle or a glare? Glow and sparkle are good, but once you cross over to glare, you just have this big fixture drawing attention.
---
Products
Acoustical Lighting Solution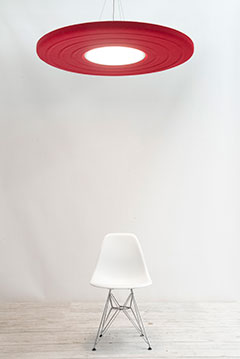 BuzziMoon offers the best of both worlds: highly functional general lighting embedded in a proven acoustic ceiling solution. The LED light module is designed specifically to answer the need for general lighting in restaurants and provides a "full moon" lighting experience with acoustical regulating properties. www.buzzi.space
Vintage LED Lamps

For restaurants wishing to achieve a retro ambience while taking advantage of LEDs, the SYLVANIA ULTRA LED Filament Lamps have a classic clear glass style with a color temperature of 2700K and are dimmable down to 10 percent. Reducing energy costs up to 90 percent and lasting up to 15 times longer than incandescent lamps, the portfolio is available in A19, ST19, B10, A15 and G25 versions. The ULTRA LED Filament Lamps are also RoHS compliant; contain no mercury, lead or other hazardous materials; and don't emit UV or IR radiation. www.sylvania.com
Designer Pendants

Cerno and design studio ICRAVE collaborated to release LICHT, a new lighting collection comprised of the Ignis and Imber pendant lights. The pendants pair either a maple or walnut frame with a simple but striking shade that can be specified in distressed brass, aluminum, rose gold or glossy white finishes. Both models are fully dimmable with LED or incandescent lamps and are available in 17- and 24-inch shades. www.cernogroup.com
Illuminated Handrail System

Organic Lighting has debuted liniLED Handrail, an innovative handrail system that integrates specification-grade liniLED linear LED strips within high-design stainless steel handrails. Suitable for indoor or outdoor applications, they're energy efficient, long lasting, low-maintenance, damage resistant and comfortable to grip. Available in two diameters — 1.67 inches and 1.90 inches — each comprises three different models of liniLED LED strips and lumen intensities. www.organiclighting.com
New Streamlined LEDs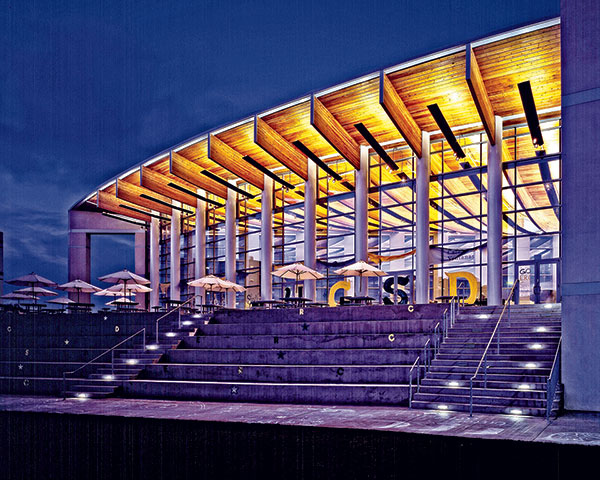 Crisp new pendant, surface-mount and recessed linear-design lights from Orgatech are well-suited to contemporary building interiors. These highly energy-efficient luminaries mount individually, in rows, at right angles or in patterns to readily form creative interior ambient or accent lighting. The low-scale units blend seamlessly with architectural interiors and are available in 1- to 8-foot lengths and in 3 widths. www.orgatech.com
Exterior LED Floodlights

Eaton has expanded its Lumark Night Falcon LED floodlight luminaire family. With the addition of small and large models available in multiple wattages, the Night Falcon series replaces high-intensity discharge (HID) products of 70 to 1000 watts while providing more than 75 percent in energy and maintenance savings. Use for a broad range of outdoor needs, including area, security, facade, architectural landscape and signage lighting. A broad range of integrated controls is available. www.eaton.com
Adaptable LED Light Strips

Organic Lighting's liniLED adaptable, ultra-warm-white light strips are low-voltage, low-heat, long-life, dimmable and waterproof, making them suitable for indoor or outdoor use. Top-Power LED strips are embedded in white and clear co-extrusions and emit top-oriented light; Side-Power strips offer side light for use in coves, columns and more; and PCB strips are flexible, small-dimension LED ribbon strips ideal for use in small indoor spaces. www.organiclighting.com
Floral Art-Glass Pendant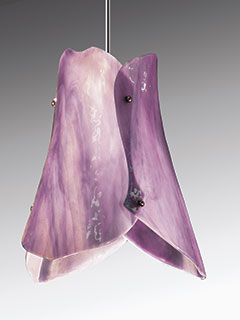 Derek Marshall introduces the Trillium pendant, a floral lighting design inspired by the spring wildflower. The trilateral petals are made of three overlapping pieces of American art glass. Use alone or in groups to create a focal point. The pendant measures 9 inches high and 8 inches at its widest point and takes up to 60 watts of incandescent, halogen, CFL or LED bulbs. www.derekmarshall.com
3D Frame Lights

Axo Light introduces Framework, a family of illuminated picture-like frames for ceilings or walls. Use singly or combine units of different sizes and heights to create softly glowing, 3D works of art. Constructed of white painted aluminum, the frames feature dimmable LED or fluorescent lamps on two sides. Light is emitted through a transparent lens to diffuse and reflect on ceilings or walls. Available in three frame and leg sizes and in suspended models. www.axolightusa.com