Product Guide
November 15, 2016
Jeremy Levitt and Andrew Cohen co-founded New York-based Parts and Labor Design in 2009, taking what they characterize as a bare-knuckled, straightforward approach to high-end design. Custom furniture installations are typically a big part of their projects, many of which in the restaurant space have won top design awards. Levitt shares some insights on the furniture category.
What are clients most interested in these days, custom or off-the-shelf furniture?
JL: Inevitably, some custom furnishings are part of almost every project. That's especially true if you have soft seating. Nobody makes readily available banquettes that will easily fit your space and/or design, except perhaps diner-type concepts where you might have straight booths.
That being said, we're doing far less custom work for chairs today. Dining chairs are high-quantity, and usually people want to keep their costs down, so we're speccing off-the-shelf chairs more than ever. But we always prefer custom because we want each project to be unique.
Are there significant differences in cost and timing with custom versus off the shelf?
JL: You can wait just as long when buying off the shelf as you might for custom. When you're buying in quantity, it still has to be produced.
From a cost standpoint, if clients want quality of any sort, they may pay just as much, if not more, for off the shelf. With custom, you can control some costs through sourcing. For example, if you have one shop making all of your tables, chairs and wood products, they can buy enough wood for all of your needs at a lower cost and do a package deal. You can also control costs with materials and finishes. If we'd love for something to be in walnut but that's too costly, we can do it in oak or ash and then work on what finish we want for it to be perfect.
What material and design trends are big right now?
JL: We're seeing a lot of great vinyl products coming out as cost-effective alternatives to leather. They look a lot like leather and can have really interesting textures and colors that you may not be able to get consistently out of leather. Another trend is multidisciplinary pieces — furnishings that juxtapose a number of materials into one composition. And we're seeing and designing more multifunctional furnishings — tables with paper towel rolls built in underneath in casual concepts; tables with slide-out trays to hold empty bottles or glasses in bars; high-end leather chairs with built-in drink holders in upscale sports-lounge concepts; and, of course, bars and tables equipped for charging mobile devices.
Give us some do's and dont's for specifying furniture.
JL: Don't order pieces that won't stand the test of time. Restaurant furniture absolutely has to be contract suitable. Do make sure that the comfort level of the furniture matches the quality level of the food. Do be careful with table size. This is tricky because many chefs like to use big plates and also because lots of concepts are doing multiple tapas-style small plates. You need room for that, but you don't want the table so big that you lose the intimacy of the experience and guests have to shout to hear each other. Do use furniture to create a room that's cohesive in terms of comfort. You want to be sure that no seat is a bad seat.
---
Products
Modernist Seating

Exemplifying modernism, the Elle Collection from Motivo Furniture offers this functional chair design in three forms: square, narrow or wide back. This beechwood side chair has a tight single-stitched seat and upholstered inside back with wood on the outside back. Select finish options are available. www.motivofurniture.com
Reclaimed Wood Tables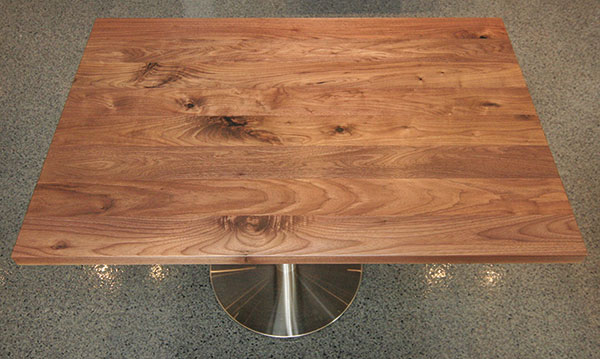 Reclaimed Table's new plank tables are made of the highest-quality reclaimed and FSC-certified wood. Available in 4- or 6-inch-wide and 1.5-inch thick planks, these custom-made tabletops can be created in any desired size and shape. They are also offered in a variety of species and stains. Featuring a robust catalyzed polyurethane finish, the tables are thoroughly protected from heat, moisture and scratches. www.reclaimedtable.com
Vintage Design, Modern Construction

Facility Concept's 5906 chair and stool set combines durable metal construction with an on-trend retro-industrial design. With three seat height options and a detachable back, the 5906 is suited to a variety of seating needs. A wide array of metal finishes and seat options is available. www.facility-concepts.com
Curved Strap Chair

The combination of wood and Batyline straps adds dimension to Blue Leaf Hospitality's Teak Curved Strap Chair. A strong showing of craftsmanship and versatility, the Teak Curved Strap Chair makes a modern statement through its curved body, strappy back and slender legs. www.blueleafmiami.com
A Warm Combination

A marriage of organic and contemporary, Phillips Collection's bar tables and stools combine the warmth of solid Chamcha wood with the cool, smooth, straight sheets of iron. www.phillipscollection.com
Comfortable, Durable Design

Maxsun's versatile new MC803 chair comes in four different frame colors — black, white, red and clear-coated stainless steel — and two choices of wood stains. The strong, durable welded steel frame and solid wood panels are key features that make it popular among restaurant and bar owners. Both back and seat panels have curved depressions to ensure comfort. www.maxsungroup.com
Functionality Reimagined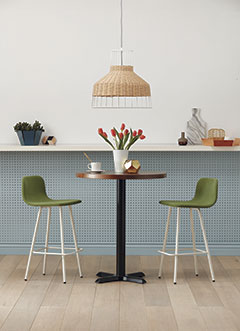 Industrial designer Joey Ruiter rethinks modern restaurant furniture in his latest collaboration with Grand Rapids Chair Company. The eight-piece Harper Collection, made of powder-coated steel tubing and molded plywood shell, was designed for high-use restaurant settings focusing on functionality and design versatility. Choose from multiple base styles in wood or laminate shells and various upholstery options. Design details include uniform back height — regardless of leg height — swooping, continuous bends and soft arched shells. The pieces are cohesive without completely matching. www.grandrapidschair.com
Stylish, Stackable Chairs

Continuous flat planes and an integration of natural elements defined the midcentury modern era of architecture from which the Lunette chair draws inspiration. An elliptical back shape and a modest presence offer a refreshing alternative to the standard restaurant chair. It is lightweight, is stackable and has a faux wood finish to give it warmth and simplicity without sacrificing strength. www.mitylite.com
Custom Upholstered Booths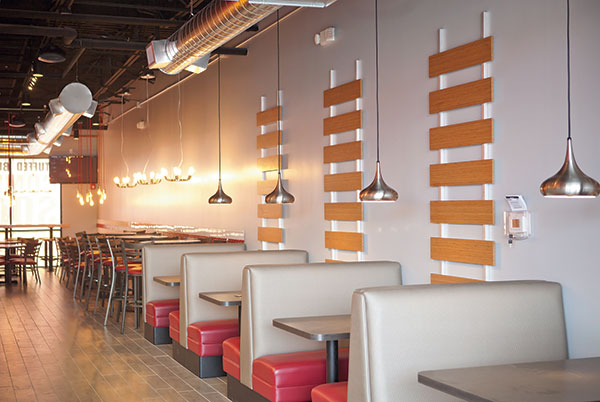 Sturdy construction and beautiful design make Niuline booths ideal for both formal and casual/quick-serve foodservice settings, expanding comfortable seating options while adding a touch of color and design pizzazz. Choose optimum customization with options including standard, double and wall-mounted booths as well as corner and U-shaped booths. www.niuline.com
New Modular Booth System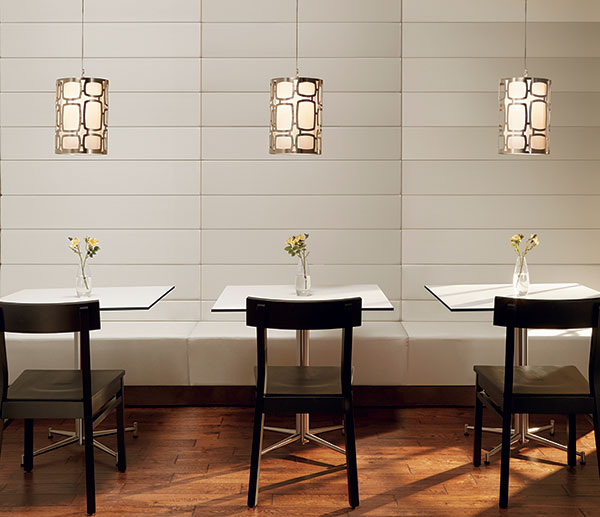 The Elyse modular booth system from Beaufurn can be customized to your exact specifications and upholstered in the fabric of your choice. In addition, the system's design allows for more compact shipping, which saves money. www.beaufurn.com
Contemporary Coat /Umbrella Tree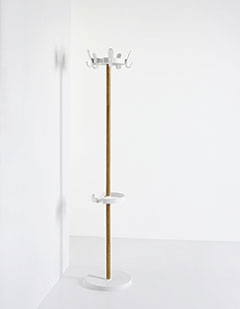 Manufactured in the Netherlands and distributed in North America by Magnuson Group, STICKS G+ coat/umbrella trees offer durability and a contemporary design aesthetic. Features include a varnished natural oak post, a white epoxy-coated aluminum base, umbrella holder and crown with white plastic hooks. The STICKS series also includes wall-mounted coat hook strips and single magnetic coat hooks that hold up to 24 pounds. www.magnusongroup.com
Industrial-Chic Appeal

Amisco's upright stool and Norcross table are made to order and can be painted in 14 different metal colors. The table base is compatible with many tabletop sizes and tabletops in choice of solid wood, wood veneer or laminate. Stools feature an upholstered or distressed solid wood seat and a distressed solid wood backrest. Seat coverings come in choice of COM or vinyl and are available in counter and bar height. www.amiscocontract.com
Midcentury Classic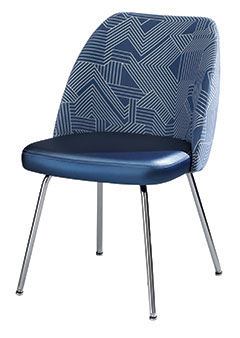 The Emma Series from MTS Seating is a timeless midcentury modern classic that never goes out of style. The upholstered shell, available in solid and open-back versions, sits atop a bent-leg base made from U.S.-manufactured steel. The series includes additional base styles and is offered in a choice of 32 standard powder-coat colors as well as bright chrome or satin nickel chrome finishes. www.mtsseating.com