Product Guide
November 15, 2016
Nightclub and restaurant designer/architect John Sofio, founder of Los Angeles-based design-build firm Built Inc., often creates statement floors in the venues he designs. He shares some of his strategies for creating floors that make a big design impact and perform well in restaurant environments.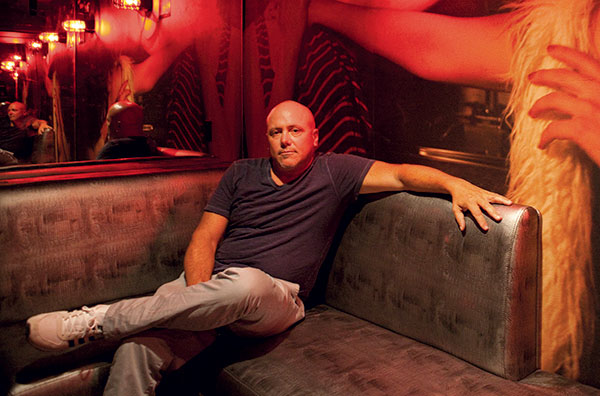 What do you think about first when considering flooring options?
JS: One of the first things I look at is light. You have to consider very carefully what the lighting will be like in the restaurant and what the reflectivity of the flooring might be. Light-colored flooring can be very tricky and can dramatically impact the lighting scenario through the entire space. Color and texture are also big considerations.
And if a client really wants a light-colored floor?
JS: You can reach a compromise. In one of my recent projects, Delilah in West Hollywood, the client wanted a white/black, deco-style marble floor throughout the space, but it would have been too light and bright for the rest of the finishes. So, instead of putting the black-and-white floor throughout, I gave him that vibe in some high-impact areas — the entry, the hallway to the restrooms and in the restrooms. In the main space, I used wide, engineered flooring boards — European white oak stained a dark black — separated by ¾-inch mahogany strips. It's not just a large black floor; it has some pattern and life to it. We also added brass strips where the wood floor hits the marble and the carpet, which we used in more intimate areas with loose seating. So we're mixing the materials throughout the space to
create different experiences.
Any new flooring materials that you're especially fond of?
JS: We've been using a lot of engineered flooring. It's not new, per se, but some of the products that we're selecting are new designs. One is an amazing natural white oak from Italy. It has an overlay finish on the actual wood and a very stable engineered tongue-and-groove system. We used that with great success recently at Hedley's, a casual restaurant in West Hollywood, where we did it in a chevron pattern. We always try to create a pattern rather than just laying flooring linearly. The black-stained flooring at Delilah also fits this category. It's amazing.
What's one flooring design mistake you see made too often?
JS: Incorrect direction of flooring boards. People typically place boards either perpendicular to the entry, which makes the room feel chopped up and short, or parallel with the length of the room, which can make it feel too narrow and long. I like to install flooring boards at a 221/2-degree angle from the entry. It's not a harsh angle but seems to make the space expand.
---
Products
Metal-Look Porcelain Tile
Crossville's Altered State porcelain tile collection offers the look of antiqued metals, oxidized and aged from the passing of time. Though the appearance mimics that of hand-forged metals, the performance is purely porcelain tile: superior durability, strength, low maintenance, lasting style — and the right technical attributes for commercial environments. The tile is available in five colors that echo the details of copper, iron and chromium. www.crossvilleinc.com
Digitally Printed, Personalized LVT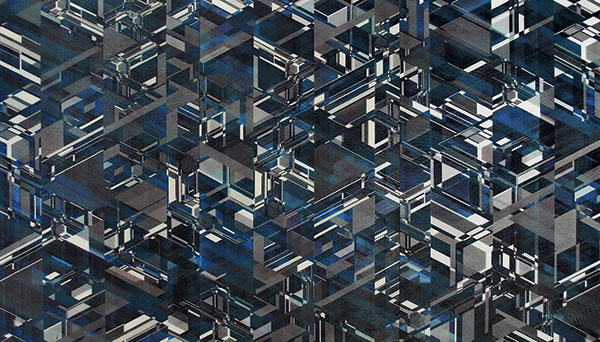 Tarkett has unveiled Collections Infinies, a digitally printed luxury vinyl tile featuring designs from four internationally renowned artists: Suzanne Tick, Krista Ninivaggi, D.B. Kim and Stefan Sagmeister. Tarkett has also debuted a co-creation and visualization tool for Collections Infinies. This innovative technology enables architects and designers to personalize Collections Infinies designs through the use of an online visualization tool. www.collectionsinfinies.tarkettna.com
New LVT Innovations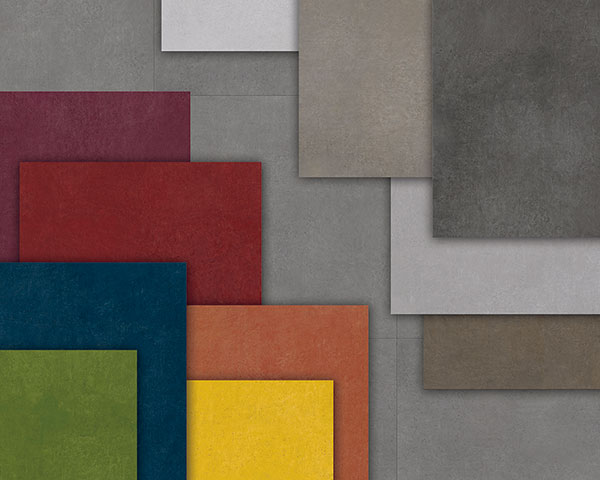 ASPECTA by Metroflor has expanded its range of LVT flooring with ASPECTA ONE, intended for applications where the 3.2 mm, 28 mil ASPECTA FIVE is not required. ASPECTA ONE features new, exclusive designs and the same high-quality surface textures, design and durability of the entire portfolio. The dry-back collection's 2.5 mm gauge, 20 mil wear layer, and 46 wood, stone and abstract designs are suitable for high-volume commercial settings. It includes Midtown Prism (shown), available in six global trend colors. www.aspectaflooring.com
Long, Easy-Install Planks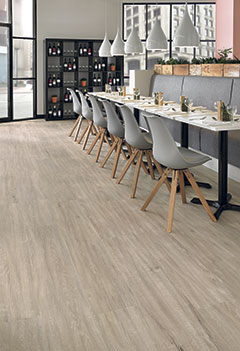 Karndean LooseLay Longboard is the company's fastest and easiest-to-install floor, combining its longest plank size with LooseLay's friction-grip backing. The new, 59-inch planks feature 12 contemporary designs inspired by authentic American, Australian and European woods, including pine, walnut and spotted gum. The collection offers stylish designs, installation cost savings, easy maintenance and tremendous performance. www.karndean.com
Rapid Weld Flooring Solution
Faster and easier than commercial heat welding, Protect-All Rapid Weld delivers a flooring solution designed to support a range of rigorous tasks. This new installation system utilizes a chemical welding process that dries fast and enables same-day installation and welding. The solution is available in four color options. Together, Protect-All Flooring and Rapid Weld can reduce downtime and flooring seams by up to 80 percent compared with 6-inch square ceramic or quarry tile. www.protect-allflooring.com
New Concrete-Stone LVT Designs

Parterre Flooring Systems has introduced three new designs to its Fused luxury vinyl tile collection: Concrete, District and Terminal. The new additions boast a variety of concrete- and stone-inspired designs in multiple pattern and color options that reflect life in the city. Concrete (shown) is a stained look and industrial design with an aged texture, District is a city-inspired concrete design that is rich in color, and Terminal is a softer and more classic terrazzo concrete design. www.parterreflooring.com
Large-Format Porcelain Tile
With the combination of a wood-grain texture and large format, Ege Seramik's Rainforest pressed porcelain tile can be used on interior floors and walls as well as on exterior vertical surfaces. This glazed, 8-by-48-inch tile is available in white, beige and mixed colors and is easy to clean and maintain. Large-format tiles can help reduce the number and thickness of grout lines, allowing for greater design versatility. www.egeseramik.com
Carpet Tile, Unearthed
Milliken's Unearthed cushion-backed carpet tile series offers a full spectrum of coordinating patterns to incorporate various design elements: granular textures, linear striations, and both angular and organic free-form shapes. Select patterns reveal excavated finds, such as Gypsum Glyph (shown) and Shale Fossil. The series is available in three colorways: Jasper, Larimar and Quartz, or choose from Milliken's Pure Color System to create custom colors. www.milliken.com
Luxury Vinyl Beauty, Performance

Altro Flooring's Lavencia luxury vinyl tile exudes the beauty of its luxury vinyl nature, blending style and performance to create a classic look in dining areas without the practicality drawbacks. The collection features realistic visuals in an array of sizes and finishes, a commercial-grade 22-mil wear layer, and 58 colors in wood, stone and fabric looks. www.altro.com
Handcrafted Wood Floor Planks

Nydree Flooring's Handcrafted Collection is truly crafted by hand, showcasing a subtle but genuine aesthetic that mass-produced, mechanically aged processes can't replicate. The planks consist of real wood with an acrylic-infused top layer that provides durable, design-driven flooring options. The Handcrafted Collection is a low-emitting product, CARB Phase 2 compliant, FloorScore and Chain of Custody certified by Scientific Certification Systems to Forest Stewardship Council standards. www.nydreeflooring.com
Save