Product Guide
November 15, 2016
Five Minutes With: Jack McGarry, The Dead Rabbit, one of the world's most award-winning bars. Named World's Best Bar and World's Best Cocktail Menu at the Tales of the Cocktail's Spirited Awards last summer, it has been a big winner at the same event in prior years as well.
Previous Spirited Awards include Best American Cocktail Bar and World's Best Drink Selection, among many others. In 2013, the Dead Rabbit was named Best Everyman's Bar by New York magazine and Best New Bar by the Village Voice. Its owners, Jack McGarry and Sean Muldoon, recently opened GreenRiver in Chicago and Blacktail in New York. McGarry shares some insights on what's driving bar design these days.
What big trends are impacting bar design and equipment needs?
JM: Behind the bar, I'd say recycling. In New York, at least, we'll soon have a law that mandates that all waste be separated. This will dramatically affect the layout behind the bar due to the need for more bins. We currently allocate one mixed garbage unit per station, but we'll soon need to modify this to accommodate glass, plastic, paper and general rubbish. In the bar room itself, social media is having a big impact. Having a TV is great when you're a sports bar, but when you're not, your space needs to engage the guests. There has to be a lot to keep them stimulated while at ease and comfortable.
Any favorite new bar products that your group has implemented recently?
JM: In terms of operations, we've streamlined our recipe database to a new application system and have iPads behind each station. These can be updated and modified remotely, and it syncs automatically with all connected devices.
What impact is the craft cocktail movement having on the segment?
JM: It has significantly altered operators' approaches to designing bar stations. If you don't invest heavily in the engine of the bar — the stations and other support areas — the mixed drinks won't come out in an efficient and delectable manner. Guest satisfaction, loyalty, and, ultimately, revenues and profitability will suffer. We have the same level of detail that a Michelin-starred restaurant has when they design their kitchens. Every movement of the bartender has to be thought out and catered to so the show is great and the product is deliverable.
We also never neglect the decor, which is what I've noticed some out-and-out cocktail bars doing. They've invested heavily in their "cockpits" but not their decor. Everything the guest can see, feel, hear and taste has to be thought about and catered to. The devil is in the details.
What's one product category in which you'd like to see more innovation?
JM: Guest waiting notification systems. We've experimented with handheld buzzers, but we're not happy with how they set the tone for the experience.
---
Products
Wine Dispensing, Preserving System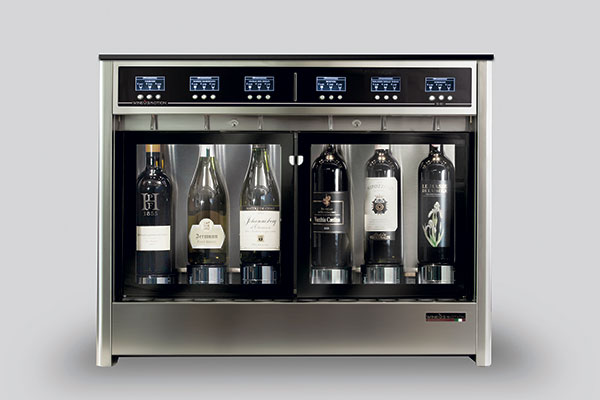 SEI is the latest addition to Wineemotion's commercial wine dispensing and preservation systems line. The six-bottle system features a double-glass door allowing convenient opening of the display. SEI has two temperature configurations: six bottles refrigerated or dual-temperature zones for three whites and three reds. With the bottle-lifting system aided by spring pistons, bottle changing takes just 22 seconds and ensures the bottles pressurize properly to maximize the quality of the preservation. www.wineemotionusa.com
Versatile Conversation Piece Tables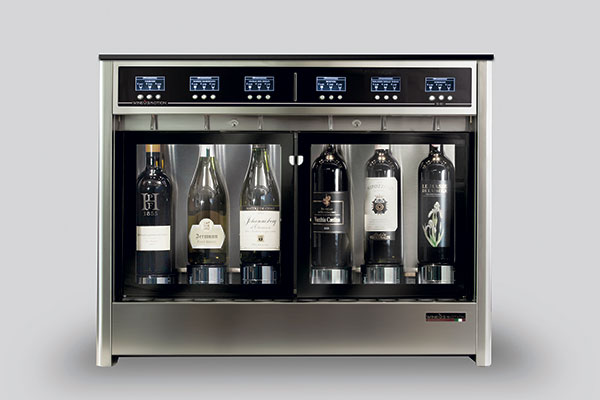 Create a contemporary atmosphere with Southern Aluminum's XCube Table. The combination of beautiful laminate tabletops and interchangeable folding bases makes these tables a versatile option for bar, lounge and event spaces. As another option, unique swirl-patterned tabletops can be paired with multicolored, battery-powered LED lighting. They are available in multiple heights and in round or square tabletop models. www.southernaluminum.com
Signature Cocktail Station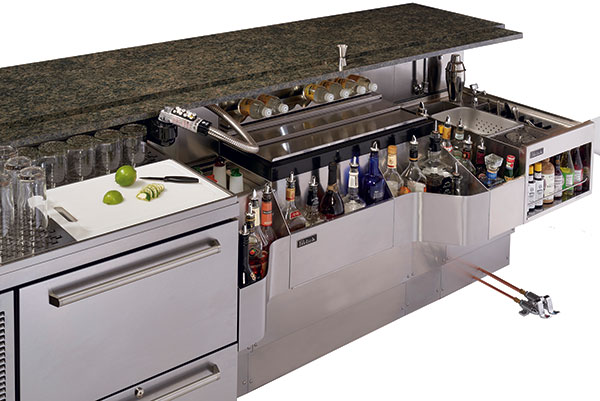 Perlick's Tobin Ellis Signature Cocktail Station is engineered to be more ergonomic for bartenders and to better accommodate their needs when making craft cocktails in high-volume hospitality environments. Features include refrigerated drawers, a drainboard top with stainless steel glass rack panels, an insulated bottle well, a sectioned ice bin, a rounded speed rail design and slanted speed rack, and a prep sink/tool caddy combo with foot-operated faucet. www.perlick.com
Custom Draft Beer Tower
Micro Matic USA engineers and crafts custom draft beer towers to complement any bar's layout and style. Custom towers have unlimited faucet configurations, including dual-sided service. Integrated patented Kool-Rite modules ensure beer cooling at the point of dispense. All components in contact with the beer are 304-grade stainless steel. A wide selection of exterior finishes, including powdercoat colors, is available. www.micro-matic.com
Modular Bar Die

Eagle's modular bar die is designed for Eagle underbar equipment to be mounted to and supported by the bar die, which encloses and hides beverages as well as electrical and plumbing lines in an integrated chase. Its front can be covered by removable panels that provide easy access to the chase for modifications and maintenance. Panels can be covered in decorative laminate, wood millwork or a stainless steel finish. www.eaglegrp.com