March 23, 2018
Amelia Levin, Contributing Editor
Page 5 of 5
KŌST at Bisha Hotel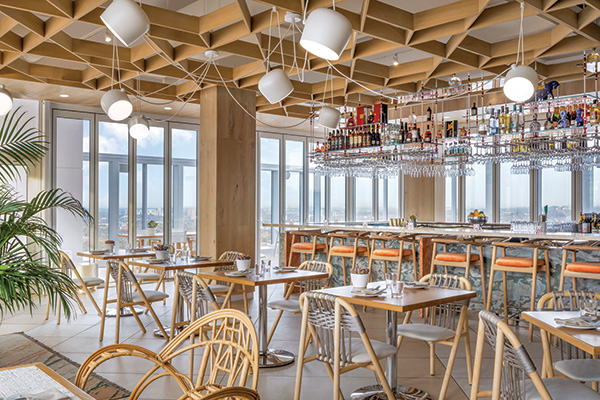 KŌST, which opened in September 2017, is a massive, 7,728-square-foot, 200-seat rooftop restaurant on the 44th floor of Bisha Hotel. The design team — Studio Munge partnered with Wallman Architects, Scope Interior Design, and FF&E Design and Procurement — worked to create an energetic design for the party-centric space. The restaurant has a beach house aesthetic and menu inspired by the Baja Peninsula.
Warm wood adorns the walls and adds texture to the ceiling via custom oak trellises. The bar is topped and sided with panels of marble in varying shades, from tropical peach to ivory and seafoam green. Rose-tinted glass shelves float over the bar and hold liquor and glassware.
Custom-made seating includes barstools with muted apricot velvet upholstery and rounded oak frames, woven rattan chairs, and ivory banquettes with orange detailing.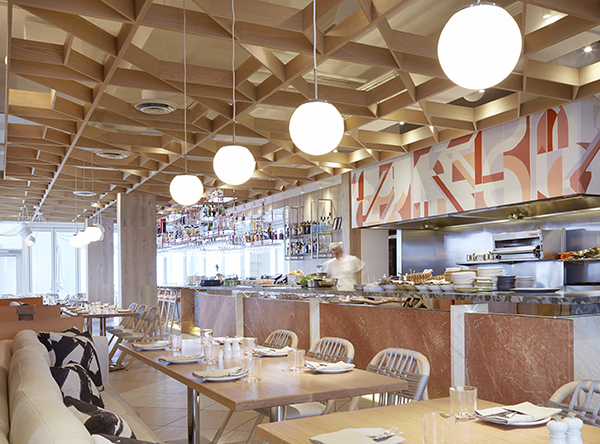 The indoor dining area is surrounded by a 92-foot operable glass wall system that erases the line between the inside and the 4,257-square-foot terrace, which includes a rooftop pool with the hotel logo on its floor.
Images courtesy of Studio Munge